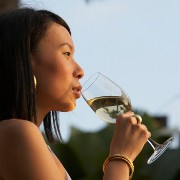 Photo: Getty Images
Ever since it was reported that red wine may help delay heart disease, more promising effects of this beverage are reported on a weekly basis. One should be aware that the beneficial effects of red wine on the heart are not conclusive.
Heart disease continues to be a very common cause of death in France where red wine is consumed in large amounts.
In any case, now a study from Cedars Sinai Medical Center in Los Angeles reports that red wine may be used to treat breast cancer in postmenopausal women. (1) Past reports have shown an increased risk of breast cancer associated with consuming alcohol but the role of red wine has so far been divisive.
One study found that the color of wine had no effect on breast cancer and other studies indicated that it is the amount of wine consumed, and not the type which increases breast cancer. (2)
This small study done by Dr. Glenn Braunstein followed 36 women with an average age of 36 and randomly assigned them to drink 8 ounces of red or white wine at dinner for 21 days. The women were asked to abstain from wine during their period and then cross over to the other color of wine for the next 21 days.
No other types of alcohol or grape products were allowed during the study. The aim of the study was to determine if red wine could cause hormonal changes during different phases of the menstrual cycle.
The results showed that red wine but not white wine mimicked the effects of the aromatase inhibitors, which are used to treat postmenopausal women with breast cancer. The aromatase inhibitors work by blocking the effects of estrogen. So the study suggests that red wine could be used to treat breast cancer in women.
So what does this all mean?
This was a very small study undertaken for a very short period of time. There are many factors that influence hormonal changes in a female. In France, and other parts of Europe, women have been drinking red wine for centuries and there is no evidence that the incidence of breast cancer is less or that their prognosis is improved.
At the moment, women with breast cancer should follow up with their oncologist for the most updated treatment. While red wine is a great beverage, it is not a replacement for currently available therapy for breast cancer.
Sources:
1. Shufelt C, et al "Red versus white wine as a nutritional aromatase inhibitor in premenopausal women" .J Womens Health (Larchmt). 2011 Dec 7. [Epub ahead of print]
Abstract: http://www.ncbi.nlm.nih.gov/pubmed/22150098
2. Coronado GD et al. Alcohol consumption and the risk of breast cancer. Salud Publica Mex. 2011 Oct;53(5):440-7.
Abstract: http://www.ncbi.nlm.nih.gov/pubmed/22218798
Reviewed January 9, 2012
by Michele Blacksberg RN
Edited by Jody Smith
Tags: