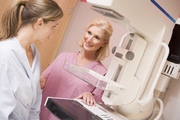 Photo: Getty Images
Mammograms are x-rays that take images of the breast tissues. This helps see and locate normalcies and abnormalities in the anatomy of the internal tissues of the breast such as the presence of tumors, calcifications, lumps and cysts. The American Cancer Society recommends that a woman obtain her first baseline mammogram between the ages of 35 to 40. (Source: MedicineNet.com; Report Title: Mammogram; Revising Medical Author: Melissa Conrad Stöppler, MD; URL: http://www.medicinenet.com/mammogram/article.htm)
1. Why Take a Mammogram?
The purpose of getting a mammography:
• To screen for breast cancer in women who are not showing any symptoms of the disease.
• To screen for breast cancer in women who have the symptoms.
• To determine the exact location of the suspect breast tissue so it can be removed for further testing.
2. Who Should Get a Mammogram Done?
• Women who have had a family history of cancers or are in the high risk category for cancer.
• Women over 40.
• Women who are displaying symptoms of breast cancer.
3. Do's and Don'ts Before a Screening:
• Do not use deodorants, powders and anti-perspirants on the day of the screening as the mammogram may produce hazy images.
• Jewelry around the neck, chest and ears need to be removed during the imaging procedure.
• Inform the doctor if you are pregnant, breastfeeding or have had breast implants for breast augmentation.
• You must inform the doctor if you are due or having your period (especially if you experience tender breasts prior to or during menstruation). Images may be taken within 2 weeks of starting your period.
4. What To Expect During the Test (Source: WebMD; Report Title: Mammogram; How It Is Done; Author: Sandy Jocoy, RN; URL: http://women.webmd.com/mammogram-16573?page=2 )
• The patient's breasts are placed one at a time on a flat panel. A gentle but firm pressure is applied to each breast with another panel causing them to be compressed between the two panels.
• You may be asked to stand, sit or lie on the x-ray table depending on the type of machine used for x-ray.
• The compression is not harsh and discomfort may be felt only for a few seconds of compression.
• The breast compression helps get sharper images of the breast tissues and helps detect tiny lesions and minute calcium deposits which could otherwise be overlooked.
• Depending on the size of the breast, two or more images may be taken for each breast to cover all the breast tissues.
• In cases where the patient has already consulted with a doctor for pain in the breasts or to check a breast lump, a small x-ray marker could be used to obtain better imaging of the specific area with the problem.
5. In cases of abnormalities:
Generally, two radiologists and a doctor will look at the mammogram images to decide on the presence of cancer or suspect cells. If they see cancerous cells, the hospital will call you. They will also get in touch if they are in doubt to prescribe further diagnostic tests like a biopsy of the suspected area on the breast. Sometimes, false positives (reporting of cancer tissues where none exist) are reported. Similarly, false negatives (non-detection of abnormalities where they are present) may also be reported. Therefore, a consultation with the doctor after obtaining the results is necessary.
6. Reading the Results:
Breast screening results will be diagnosed as "normal" if:
• There are no presence of growths.
• There are no presence of lumps.
• There are no presence of abnormal tissues.
• Tubes or ducts through which breast feeding is enabled look normal.
Results will state "abnormal" if:
• Microcalcifications are noted.
• Tiny calcifications are occurring where cells are growing rapidly.
• There is the presence of lumps.
• There is the presence of growths.
• There is the presence of abnormal, malignant tissues and non-cancerous tissues.
• There is the presence of fluid-filled pockets in the tissues.
You will need to go for further testing and investigative diagnostics if:
• A particular area needs to be looked at again due to the presence of suspected cells.
• Doubt of false positives or false negatives exists.
• The images are not sharp or clear.
Alternate detection methods of the presence of cancerous cells in breast tissues may be done through BT Tests (blood-based screening test), BCtect (blood based test), Breast MRI, Infrared Mammography or molecular breast imaging (MBI).
INFORMATION IN THIS ARTICLE IS NOT MEDICAL ADVICE. ALL INFORMATION GIVEN IS TO BE CHECKED WITH YOUR DOCTOR BEFORE IMPLEMENTING OR TAKING IT AS STANDARD OR VERIFIED.
Mamta Singh is a published author of the books Migraines for the Informed Woman (Publisher: Rupa & Co. URL: http://www.amazon.com/Migraines-Informed-Woman-Tips-Sufferer/dp/8129115174/ref=sr_1_2?ie=UTF8&s=books&qid=1298990756&sr=1-2), the upcoming Rev Up Your Life! (Publisher: Hay House India) and Mentor Your Mind (Publisher: Sterling Publishers). She is also a seasoned business, creative and academic writer. She is a certified fitness instructor, personal trainer & sports nutritionist through IFA, Florida USA. Mamta is an NCFE-certified Holistic Health Therapist SAC Dip U.K. She is the lead writer and holds Expert Author status in many well-received health, fitness and nutrition sites. She runs her own popular blogs on migraines in women and holistic health. Mamta holds a double Master's Degree in Commerce and Business. She is a registered practitioner with the UN recognised Art of Living Foundation.