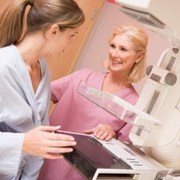 Photo: Getty Images
A few months ago, I had my annual gynecological appointment. My doctor walked in with a pink sheet of paper in her hand. She handed it to me as I sat in my paper gown looking down at my painted toenails. "It's time for you to schedule your first mammogram."
Like many women, I dreaded making (and keeping) an appointment. But I had my first mammogram this week and I have to say, it wasn't bad.
My doctor suggested making the appointment during the month of my birthday so I would always be able to remember when I needed another one for the following year. Good advice.
As I sat in the waiting room, I wondered what to expect. Once my name was called, I was taken back to a changing room. I was given a cloth gown and told to remove all clothing from the top of my body.
I had been instructed when I made the appointment to not use any lotions or deodorant the morning of my mammogram. After changing, I was taken into the "picture" room and one breast at a time was placed on a flat panel.
I flinched at the chill of the cold metal. With the help of the technician, the breast tissue was spread out flat and a top panel pressed down on top of it before the picture was taken.
It reminded me of getting my blood pressure taken. The squeezing gets tighter and tighter, then you hold for a minute and then the pressure is released.
There were four pictures taken -- two for each breast, one top to bottom and one side to side. It was a little uncomfortable but it was quick. The entire appointment took about fifteen minutes.
Once back in the changing room, I got dressed and put on some of the travel-sized deodorant that I had brought in my purse.
I was ready to go. Quick and easy. Such a simple thing to do that can be so beneficial to your health.
Tags: