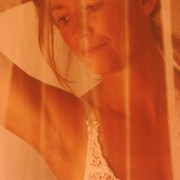 Photo: Getty Images
About 80 percent of women are wearing the wrong bra size. That's not only uncomfortable and can look bad, but it can actually affect your health.
"Ill-fitting bras can contribute to chronic headaches, back pain, tingling in the arms, restricted breathing, abrasions, rashes and breast pain, especially during exercise." (Life and Health Library)
But how do you know?
There are signs. For example, If your breasts spill over the cups, if the straps leave red and painful marks on your skin or If the straps move around and ride up on your back, these are all good indicators that it is time for a bra fitting.
It is suggested that women get fitted for bras every six months. Not only could you be wearing the wrong size, you could be wearing the wrong style for support.
In my article, https://www.empowher.com/parenting/content/ideal-bra-do-you-need-lift, I described my experience when searching for the ideal bra after having my second baby.
The experience was humorous but the result was inspiring. As I walked out with my new delicate and pretty undergarments, I had a new sense of confidence. My clothes looked better, which made me feel better.
It is also important to keep in mind that even when you do find the right bra, washing and wearing it can cause it to stretch over time, weakening its support.
When shopping for a new bra, be sure that it fits comfortably on the loosest hook. This will give you the ability to tighten it around your body as it stretches over time.
Hand washing and air drying your bras will give them the longest life, which will protect your pricey investment.
You will also want a good sports bra to minimize movement and provide comfort during your workouts. In addition, 70 to 80 percent of all women also wear the wrong sports bra size. (Sparkpeople.com)
While getting a bra fitting, don't forget to get the right size sports bra for your body. Just like athletic shoes, sports bras need to be replaced frequently, depending upon how often they are worn and washed. Sure signs are ripping, fraying or not offering the support that they used to.
If it has been a while since you have had a fitting or if you have lost or gained weight recently, it's time that you go. It may be just the "lift" you are looking for.
Sources:
Life and Health Library, by Susanne Persaud. April 2003. http://findarticles.com/p/articles/mi_m0846/is_8_22/ai_98594235/?tag=content;col1
Sparkpeople.com: "Are You Wearing the Right Sports Bra," by Nancy Howard
http://www.sparkpeople.com/resource/fitness_articles.asp?id=1290
Edited by Malu Banuelos
Tags: