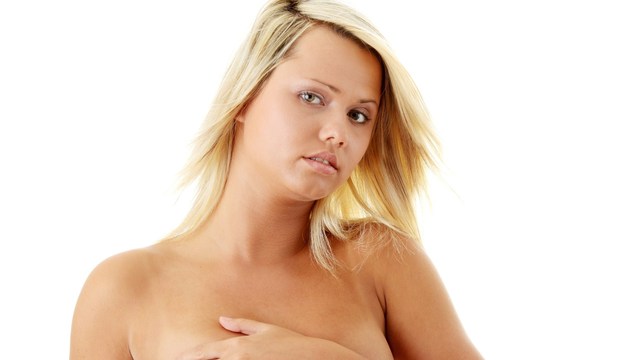 B-D-S/PhotoSpin
Having breast cancer surgery can greatly affect a woman's sense of herself. Nipple-sparing surgery is available to some women but not for those who have large tumors or tumors that are close to the nipple.
Nipple-sparing surgery is also more challenging as the blood supply must be maintained to the nipple. Because of this difficulty, it is sometimes unsuccessful.
Skin grafts to create a new nipple are less popular since "most patients don't want to have another surgery and another scar," Dr. Leo Keegan, an assistant clinical professor of surgery at the Icahn School of Medicine at Mount Sinai told the New York Times.
One option some women have sought is to have nipple tattoos drawn to improve the appearance of their breasts after surgery and reconstruction are all done.
While some women have had breast tattoos placed by a breast surgeon, the doctor may only have limited tattoo experience and the results may be less than desirable.
The nipples may not have the proper coloring or lack the subtle shadowing that a tattoo artist can provide. Some women of color have ended up with pink nipples, for instance, instead of brown-toned ones.
P.INK , which stands for Personal Ink, is an organization that connects women to tattoo artists who have scar or mastectomy experience. The artists are able to provide any kind of art, not just nipple tattoos. These tattooed self expressions can help women healing from breast cancer feel like they are taking their bodies back.
P.INK started with Molly, a breast cancer survivor who felt scarred after breast cancer surgery. She had difficulty finding tattoo artists who had the skills to help breast cancer survivors. In response to her need, P.INK was started by Noel Franus, her brother-in-law, who is vice president of an advertising agency in Boulder, Colorado.
You can watch Molly's video here describing her journey after her surgery.
If you decide to use the skills of a tattoo artist, you want to know that you have a safe and competent one. The Washington Post outlined some basic precautions to keep in mind.
1) Take your time deciding on what you want. Make sure you are comfortable at the tattoo shop by visiting first.
2) Look at the tattoo artist's work and get recommendations before you move ahead.
3) Ask about how often they sterilize their instruments and how they do it. Notice whether or not anything that will touch your skin directly is a single-use object e.g. needles, gloves, ink cups.
4) Get a list of the inks that were used with the lot numbers in case you have an allergic reaction and need to check on the ingredients. The FDA does not regulate ink or other ingredients used to create a tattoo.
5) Tell the tattoo artist about any medical problems you have, particularly a bleeding tendency, or if you are on medication that increases bleeding. Check with your doctor first before going ahead with the tattoo.
6) Follow the aftercare instructions on how often to clean and care for the tattoo exactly.
7) And a final word of advice, don't go by price alone. Nipple tattoo prices vary. Vinnie Myers, a well-known tattoo artist in Baltimore, Maryland who was written about in the New York Times, charges from $600-800.
On the other end of the price spectrum, Amy Black, the tattoo artist in Richmond Virginia responsible for the Pink Ink Fund, begins at around $150.
Amy Black started the fund in 2011 to help provide money for those who cannot afford nipple or areola re-pigmentation. There have been two P.ink events so far where tattoo artists and others have volunteered to help provide mastectomy patients with breast tattoos.
The next P.ink Day will be October 10, 2014 and will be held in a variety of U.S. cities. Go here to read more.
The results of having a nipple tattoo done by an experienced tattoo artist can be amazingly realistic. Many women have expressed how happy they are with the results. Hopefully, your experience will be wonderful too.
Sources:
A Tattoo That Completes a New Breast. By CAITLIN KIERNAN JUNE 2, 2014. New York Times.org. Retrieved July 12, 2014.
http://well.blogs.nytimes.com/2014/06/02/a-tattoo-that-completes-a-new-b...
P.INK.org.
http://p-ink.org
Amy Black
http://amyblacktattoos.com/?page_id=26
P.INK TAKES HEATHCARE TO AN UNEXPECTED PLACE: THE TATTOO PARLOUR. Retrieved July 12, 2014.
http://artthreat.net/2013/10/p-inktattoos
Getting a tattoo is largely safe, though experts advise using a reputable shop. Washington Post.com. Retrieved July 12, 2014.
http://www.washingtonpost.com/wp-dyn/content/article/2011/02/07/AR201102...
Tattooing nipples and designs on breast cancer survivors. CBS 6. Retrieved July 12, 2014.
http://wtvr.com/2013/12/06/tattooing-nipples-and-designs-on-breast-cance...
Michele is an R.N. freelance writer with a special interest in woman's healthcare and quality of care issues. Other articles by Michele are at http://contributor.yahoo.com/user/499625/michele_blacksberg.html
Edited by Jody Smith