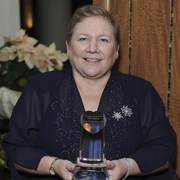 Photo: Michael Kovac / Wireimage
Those who know Lillian Shockney, or Lillie, as she likes to be called, say she is an unstoppable force for good. As administrative director of the Johns Hopkins Avon Foundation Breast Center in Baltimore, Maryland, Lillie not only helps save lives, she touches them in profound ways.
Lillie works tirelessly to improve the care of breast cancer patients not only at Johns Hopkins, but also around the world. She has authored 13 books and contributed to more than 200 articles focused on the emotional impact of breast cancer on the patient and the cancer patient journey, a subject she intimately cares about. You see, Lillie herself, is a two-time breast cancer survivor; Her first diagnosis came when she was 38.
"There is something comforting to newly diagnosed breast cancer patients when I can look them in the eye and say, 'I know you're scared. I've been right where you are sitting,'" she says.
Lillie was recently named the winner of the 2011 Amazing Nurses, a national contest sponsored by Johnson & Johnson, to celebrate and reward the important role nurses play in our communities.
The 20-week contest gave Americans the opportunity to nominate a nurse that has had a significant impact on their own life or that of a loved one, and then to vote for the nurse of their choice. In all, 2,624 nurses were nominated and 20,000 votes cast to whittle the field down to five finalists. Lillie was then selected as the winner by a panel of expert judges and was invited to California to be recognized during the 2011 CNN Heroes: An All-Star Tribute Show on December 11, hosted by Anderson Cooper.
"I never pictured myself being on the red carpet," says Lillie about her TV debut in Los Angeles a few weeks ago. "Needless to say, it was very exciting."
She is also featured in a video produced by CNN on the Nursing Notes Facebook page.
Lillie is no stranger to awards. She has more than 40 for her work helping tens of thousands of women cope with their new reality, first as a cancer patient, then cancer survivor.
"This is the first award I've ever received where my patients fully understand what it's for and that means so much to me," she said in a telephone interview. "It is also the first award that involving voting, so that's a little intimidating," she said with a hearty laugh.
"During the 20 week contest I received hundreds of emails from former patients who were rooting for me and who thank me for helping them. So even if I hadn't won the award I still felt like a winner, the whole experience was just a heartfelt one."
Lillie always knew she wanted to be a nurse. At the tender age of four, she asked Santa Claus for a nurse's costume and medicine bag she had seen in the Sears and Roebuck catalog.
Childhood pictures of Lillie show her proudly nursing her baby doll back to health from a brain tumor, its head haphazardly, but lovingly, wrapped with bandages. Despite her choosing nursing as a career, (ironically, her first job was working with brain cancer patients) it was her own cancer diagnoses that Lillie proclaims profoundly changed her life — not the other way around.
"In some ways nursing found me," she said. "I took my breast cancer diagnoses as a message that I needed to focus my attention with working with newly diagnosed breast cancer patients. Sometimes you wish the bad stuff didn't happen to you, but I've never looked at my breast cancer that way. It was a turning point for me and my career and I've always felt it was the way I discovered a greater purpose."
Her positive, can-do attitude is Lillie's brand of exceptionalism. "If something is a problem for which there is currently no solution, there is always something we as individuals can do to help find a solution. Be a leader by working on an initiative yourself," she says.
In addition to her 15 years as director of the breast cancer center and Administrative Director, Johns Hopkins Cancer Survivorship Programs, Lillie helps train up new generations of nurses at Johns Hopkins, and offers her expertise to numerous national breast cancer organizations. She is also the co-founder and vice president of a national non-profit organization called Mothers Supporting Daughters with Breast Cancer.
Lillie, a resident of Riestertown, Md., has been instrumental in fundamentally changing the way breast cancer patients are cared for at Johns Hopkins. One of her innovative practices helps breast cancer patients transition from hospital care to reengaging life in a healthy way.
"So often, when treatment ends cancer patients can feel like they are falling off a cliff," Lillie says. "Their care team becomes such an intimate part of their life that when treatment ends, it can feel as though their lifeline has been cut off."
The two-day retreat is designed to offer women an opportunity to transform themselves from patient to survivor and move on with the rest of their life. "If we do it right, they find life can be better now than before the cancer," she says.
Lynette Summerill, an award-winning writer and scuba enthusiast lives in San Diego, CA with her husband and two beach loving dogs. In addition to writing about cancer-related issues for EmpowHER, her work has been seen in newspapers and magazines around the world.
Sources:
Interview with Lillie Shockney. January 4, 2012
Lillie Shockney, AONN Co-Founder, Winner of the 2011 Amazing Nurse Award from Johnson & Johnson. PR Web. 21 Dec. 2011. Accessed 4 January 2012 online at: http://www.prweb.com/releases/2011/12/prweb9055415.htm
Edited by Jody Smith