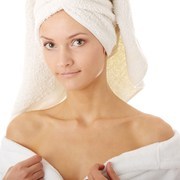 Piotr Marcinski/PhotoSpin
As October is known as Breast Cancer Awareness Month, it is time to get acquainted with your breasts.
Many women have been told that they have "dense" breasts but they are not entirely sure what that means.
As breasts are often full of tissue, adipose, and tube, it can be difficult to ascertain what is considered normal and when a lump is abnormal.
Doing a breast self-exam has been the subject of controversy as some experts believe it is not useful and do not recommend them. Yet many people know someone close to home who found a lump on their own that turned out to be cancer.
Doing a breast self-exam takes practice and requires doing it regularly at the same time every month to detect normal lumps and bumps from concerning or new ones.
It is not recommended that the exam be done before a menstrual cycle as typically breasts are more enlarged, cystic and tender which can be misleading for some. It is better to do the exam the week after the period has started.
Dense breasts are exactly that. They are denser because they contain less fat and more glandular and connective tissue, making it difficult to see through them on imaging.
This means on a routine mammogram, a woman with denser breasts has a slightly increased risk of having a lump missed simply because the technology cannot see through them. As a result, imaging centers may do additional screening with a breast ultrasound in order to be thorough.
Treatments for dense breasts are limited. It's always a good idea, though, to eat a healthy diet full of fruits, vegetables, good oils and fiber.
Research is still ongoing. However, anecdotally, high amounts of caffeine have been linked to denser breasts therefore reducing or eliminating might help. This includes caffeine in coffee, soda and chocolate.
Natural therapies associated with good breast health include evening primrose oil (at 1000-3000mg per day) and natural Vitamin E (at 200-400IU of mixed tocopherols per day).
Before you schedule your mammogram, have a breast exam done by your health care provider first. This way if anything suspicious is found, an ultrasound can be ordered as well.
Remember that breast tissue can extend along the sides of your ribcage and up into your armpit so be thorough when examining yourself. Start now. After all, it is Breast Cancer Awareness Month!
For a detailed description of breast self-examination see: http://www.whcenter.org/body.cfm?id=363
References:
1. ASBS 2009: Breast Self-Exam as Accurate as Mammography, MRI in High-Risk Women. Web. 30 September, 2012.
http://www.medscape.com/viewarticle/701881
2. FDA Approves First Ultrasound Tool for Dense Breasts. Web. 30 September, 2012.
http://www.medscape.com/viewarticle/771147
3. Having Dense Breasts. Web. 30 September, 2012.
http://www.breastcancer.org/risk/factors/dense_breasts.jsp
4. Women's Health Series: Herbs of Special Interest to Women. Web. 30 September, 2012.
http://www.medscape.com/viewarticle/406683
Reviewed October 1, 2012
by MIchele Blacksberg RN
Edited by Jody Smith