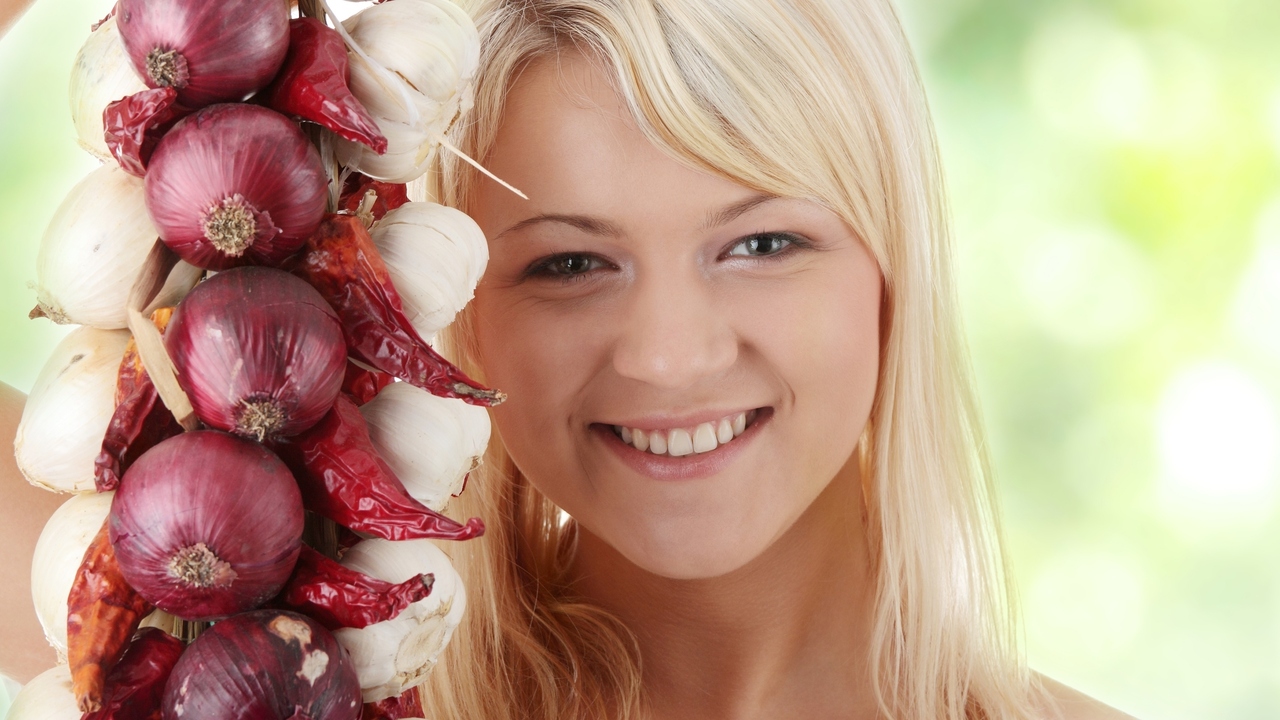 B-D-S/PhotoSpin
You may not have this date marked on your calendar. Maybe you've never heard of National Garlic Day. If that's the case, we thought you might like to know that it's celebrated on April 19.
No one seems to know who established this day of recognition, or why, but we're sure glad they did. It turns out there are a lot of things to love about garlic, which is also known by the descriptive name the Stinking Rose.
For instance, did you know that the garlic (Allium sativum) is considered to be an herb as well as a vegetable? It's closely related to the onion, rakkyo, chive, leek and shallot. To our knowledge, it's the only plant-based edible that falls under both categories.
To learn more about this interesting and unmistakable food, we went to the self-proclaimed Garlic Capital of the World, Gilroy, California, and talked with Patsy Ross, a spokesperson for Christopher Ranch, one of the largest garlic growers in the country.
Garlic has been around for more than 6,000 years, dating back to antiquity, and is grown and used ubiquitously in cultures around the world.
Here in the United States about 90 percent of the nation's garlic comes from California, Ross said. In fact, at Christopher Ranch, the home of the Monviso California Heirloom Garlic, they grow and harvest about 70 million pounds every year.
Gilroy, located about 79 miles south of San Francisco, not only produces a lot of garlic, it's also home to one of the country's annual garlic festivals, which takes place at the time of harvest, typically the last week in July.
Gilroy has the reputation of being, as comedian Will Rogers said in the 1930s, "the only place in America where you can marinate a steak by hanging it on the clothesline."
But it isn't the only place that celebrates the savory cloves. To see if there's a festival near you, check out this list from the website National Garlic Day.com.
It turns out there are many myths about garlic — that it has magic powers, staves off vampires, offers protection from the evil eye, and creates Herculean strength.
Then there's my personal favorite — that it can "ward off jealous nymphs said to terrorize pregnant women and engaged maidens," according to National Garlic Day.
And while you may opt to forego the garlic on date night, not everyone is offended by its distinct and long-lasting odor. In some cultures, it is purportedly admired for its powers as an aphrodisiac.
"Legend has it that Tibetan monks were forbidden from entering monasteries if they had eaten garlic because of its reputation for arousing sexual desire," National Garlic Day reports.
What we do know from research is that garlic is a true superfood, widely recognized for its medicinal properties in the treatment and prevention of many diseases and conditions.
Garlic benefits the blood system and heart, including atherosclerosis (hardening of the arteries), high cholesterol, heart attack, coronary heart disease, and hypertension, according to National Library of Medicine, part of the U.S. National Institutes of Health (NIH).
Some people use garlic today to prevent several types of cancers and other diseases, though scientific evidence doesn't back up all the claims. To find out if garlic is likely to be an effective treatment for your condition, or if there are safety concerns, check out the NIH garlic page.
Garlic Tips
• To peel garlic, pour hot water over the cloves for a few seconds then pull skins off with a paring knife or place in the microwave oven for about five seconds.
• Fresh garlic is a great buy because it keeps for several months, if it's stored properly—preferably in a mesh bag—in a cool, dry environment, such as a garage or basement.
Ross suggests that you avoid placing fresh garlic in the refrigerator or storing it in plastic, which can cause it to spoil and go mushy. When shopping for garlic, look for a firm bulb without much give, Ross said.
• The longer you cook garlic, the milder it becomes, but be careful not to burn it. Burned garlic will have a bitter taste, so if you burn your garlic, it's best to discard it and start again.
If you like the taste of garlic, but your repertoire includes it only on bread, try out these time-tested recipes, courtesy of Christopher Ranch.
FORTY CLOVE CHICKEN GARLIC ROAST
1 frying chicken, cut in pieces

40 cloves Christopher Ranch Garlic (peeled or unpeeled cloves may be used)
1/2 cup dry white wine
1/4 cup dry vermouth
1/4 cup olive oil
4 stalks celery, cut in 1-inch pieces
1 tsp. dry oregano 

2 tsp. dry basil 

6 sprigs fresh parsley, minced
1 lemon, cut in half

Pinch of crushed red pepper
Salt and pepper to taste
Place chicken in shallow baking pan, skin side up. Sprinkle remaining ingredients, except lemon, evenly over chicken.
Squeeze juice from lemon over top. Cut remaining lemon rind into pieces and arrange throughout chicken.
Cover with foil and bake at 375 ̊ for 40 minutes. Remove foil and bake an additional 20 minutes.
Serve garlic cloves with the chicken or spread on sliced French bread. You will find them surprisingly mild and buttery tasting. (If cloves were left unpeeled, just squeeze out pulp.)
ROSEMARY FETA DIP
1 cup plain yogurt
1 cup feta cheese
Leaves from 2 sprigs of fresh rosemary, coarsely chopped
Place all ingredients in food processor or blender, and blend until smooth. Add a bit of milk if mixture is too thick to blend.
Note: As a dip by itself, add a clove or two of fresh garlic to the blender. Serve with veggies or on baked potatoes.
Sources:
Interview with Patsy Ross, Christopher Garlic Ranch. 10 April 2015.
http://www.christopherranch.com
Is Garlic Alternative Medicine. Richard S. Rivlin, J. Nutr. March 2006 vol. 136 no. 3 713S-715S. Available online:
http://jn.nutrition.org/content/136/3/713S.full
Garlic. Medlineplus. Accessed 10 April 2015.
http://www.nlm.nih.gov/medlineplus/druginfo/natural/300.html
Garlic Festivals 2015. Partyexcuses. Accessed 17 April 2015 at:
http://www.nationalgarlicday.com
http://www.nationalgarlicday.com/garlic-festivals.html#
The original Garlic King. Accessed 10 April 2018.
http://www.gilroydispatch.com/lifestyles/columnists/martin_cheek/the-original-garlic-king/article_0d85ed79-c85e-5be5-866d-dc7af0f35fb1.html
National Garlic Day. Holiday Insights. Accessed 10 April 2015.
http://www.holidayinsights.com/moreholidays/April/nationalgarlicday.htm
Reviewed April 20, 2015
by Michele Blacksberg RN
Edited by Jody Smith