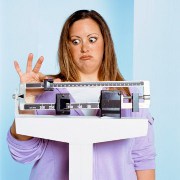 Photo: Getty Images
Most know that liposuction is not a tool for weight loss. It's common knowledge nowadays that while it works well for body contouring, it's not a way to generally shed pounds.
However, the role of liposuction is still not clear to everyone. If you browse popular question and answer sites such as Yahoo! Answers, Real Self and others, you'll see questions like these about liposuction:
* How much weight can I expect to lose?
* How many pounds will lipo remove from my abdomen?

Unfortunately, the world of Internet marketing, being what it is today, articles on cosmetic surgery procedures like liposuction sometimes get published simply as a vehicle for broadcasting links to a cosmetic surgeon's site. Occasionally misinformation will be carelessly spread by such articles, like this tidbit that appeared in an Internet article on the last day of July:
Another form of weightloss surgery is liposuction…
Let's refer to the American Society of Plastic Surgeons (ASPS) to set the record straight:
Liposuction surgery is not a treatment for obesity and is not a replacement for regular exercise and good eating habits. People with stubborn areas of fat who exercise regularly are the best candidates for this procedure(ASPS 1).
Some cosmetic surgeons offer what's known as "high volume liposuction," in which more than 4 liters (think of those large soda bottles) is removed. Many argue that the procedure is safe when extra safety measures are observed (Gabriel and de la Torre 1). There are, however, numerous potential risks associated with performing the procedure on a significantly overweight patient, such as excess bleeding and blood pressure issues. Many plastic surgeons do not favor high volume liposuction for these reasons (Placik et al 1).
Even if a patient could safely eliminate dozens of pounds through liposuction, improved health might not be the result. An article published several years ago in Science Daily reported on University of Washington School of Medicine research showing, even after high volume liposuction, diabetes and heart disease risks remained about the same for the obese women studied. The researchers surmised that the subcutaneous fat that liposuction removes does not pose the same health risk as visceral fat deep inside the abdomen that surgery can't touch (Science Daily 1).
If you're still not convinced that liposuction is not the way to lose weight, consider a more recent study by two medical professionals from the University of Colorado. Their finding - liposuctioned fat tends to return in other areas of the body - set the news wires buzzing last month (University of Colorado 1).
If you are considering liposuction, let it be for the purpose suggested by the ASPS:
Liposuction surgery can be used to treat stubborn fat pockets in many parts of the body including the thighs, arms, neck, hips, waist, back, inner knee, chest, cheeks, chin, calves, and ankles (ASPS 1).
References:
Layla. Surgical Weight Loss Options. News by Company. July 31, 2011. Web. July 31, 2011. http://www.newsbycompany.com/post/view/7100/Surgical-Weight-Loss-Options/
ASPS. Liposuction Procedure. Thousands of Member Surgeons, One High Standard. Web. July 31, 2001.
http://www.plasticsurgery.org/Cosmetic-Procedures/Liposuction.html
Gabriel, Allen and de la Torre, Jorge I. Large Volume Liposuction Safety and Indications Introduction and Reference. MedScape Reference. Updated January 14, 2010. Web. July 31, 2011. http://emedicine.medscape.com/article/1272958-overview
Placik, Otto Joseph et al. Large Volume Liposuction? RealSelf. Web. July 31, 2011. http://www.realself.com/question/large-volume-liposuction1
Science Daily. No Medical Benefit From Liposuction: Diabetes And Heart Disease Risk Is Unchanged After Fat Is Removed. June 17, 2004. Web. July 31, 2011. http://www.sciencedaily.com/releases/2004/06/040617082351.htm
University of Colorado. News from across CU: Anschutz Medical Campus. University of Colorado Faculty and Staff Newsletter. May 18, 2011. Web. July 31, 2011. https://www.cusys.edu/newsletter/2011/05-18/campus-amc.html
Reviewed August 2, 2011
Edited by Shannon Koehle
by Michele Blacksberg R.N.