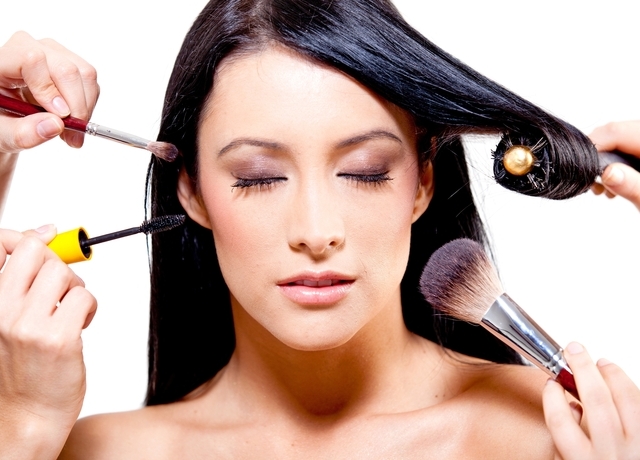 Andres Rodriguez/PhotoSpin
As is the case every year, 2014 was full of some catchy, trendy and some downright wrong beauty faux pas.
Luckily for all of us, this year's shows laid out the official do's and don'ts of 2015.
Say goodbye to the looks that used to be in style and get ready to replace them with some trends that are a little more user friendly for all.
1) Sock Buns
Truth be told, we were probably all guilty of this at one point or another. Thinking the pulled tight, gigantic bun on the top of your head was cute and oh so functional. But according to this year's runway the grapefruit-sized bun that's been taking over your head is officially out.
Designers this year went for a more "let it be" look, with natural and loose hair, braids, undone styles and low pony tails taking the cake.
All the styles were the opposite of tight and much farther south from last years oversized ballet bun.
2) Talon Nails
Whether you loved them or hated them, a lot of people had them. These large, pointy and sometimes obnoxious nails were not only a statement, but intended to grab attention.
But this year the only thing grabbing attention about the models' hands was the bare space around their nail polish. As weird as it sounds, designers actually had the models nails half-painted, which gave the models' nails more dimension and a natural look by comparison.
3) Gothic Dark Lips
The days of black or almost black lipstick are a thing of the past! The fall trend of extremely dark lips has finally died down and just in time for the warmer weather to roll in.
This season's look was the exact opposite of dark. Multiple designers, like Dolce and Gabbana, were seen using bold red lip colors, making it a hit for the season. In the end all the colors were bright, bold and they popped.
4) Drawn-on Eyebrows
I think we all saw this one coming. The days of overly drawn and dark eyebrows have finally been laid to rest, and good riddance.
The trend of what looked like an eyebrow drawn on with a stencil and marker has been replaced with once again, a more natural look.
Moving away from the full dark, bushy messes designers replaced them with a more understated brow.
Whether giving the models a more natural brow completely or just a light shading, models were seen with anything but huge dark eyebrows.
5) Contouring
Oh, contouring! The art of making your face look completely different with a few swipes of a makeup brush.
Well, as big as the trend was last year, this year it's not the case. Instead of an overly contoured and colored face, designers gave their models an all-over warm coloring.
So there you have it, out with the old and in with the new. You may not like what's up and coming but steering clear of these trends will assure you never hear, "That is so last season."
Edited by Jody Smith