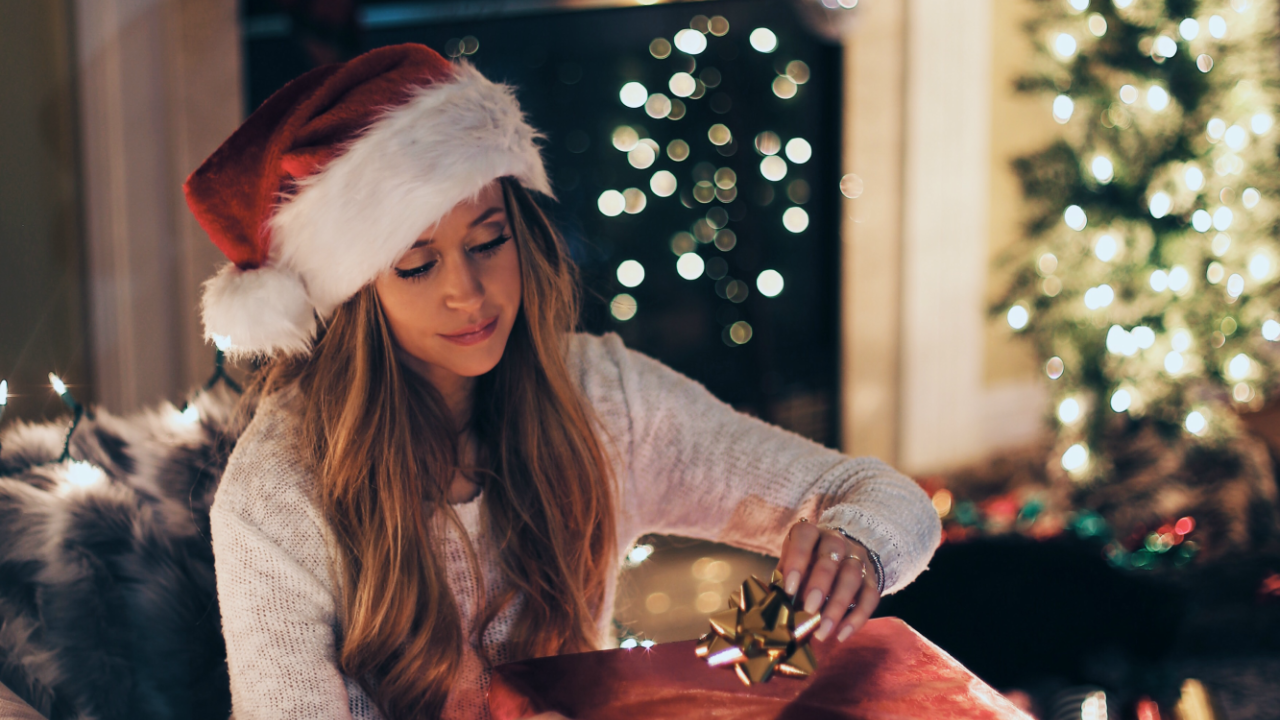 Via Unsplash
The holiday season has really managed to sneak up on us this year and we're scrambling to find ways to look great for all of the upcoming parties to attend and all of the photos to be taken. Whether it be a party at the office, an ugly sweater party or a fancy cocktail party, we want to shine bright.
Here are 10 things you can do to get with the holiday trends this season:
1) Give Your Nails a Holiday Theme
'Tis the season to let those nails sparkle. Themed manicured nails are an easy way to make a bold statement. Want to go for festive red and green stripes or a glittery, silver shimmer polish? Whatever you choose, you're bound to turn some heads.
If you want to up your nail game a notch, opt for some festive nail decals. They're cheap and easy to apply at home.
2) Deck Your Hair With Flecks of Foil
This is a totally new trend taking the holiday fashion world by storm. Hair foiling gives a whole new definition to shiny locks. To achieve this look you can purchase foil flecks at any craft store in gold, silver, or copper. Hair foiling is said to look best when styled with thick, loose curls.
Use hairspray to hold this look and then pick a place to start placing the small flecks of foil. Spray the desired area with a strong hold hairspray till your hair feels tacky and begin placing the flecks in any pattern. Use the end of an eyeshadow brush to easily press them into your hair. Once done, spray the area again.
You'll more than meet your holiday hair goals with this fresh look!
3) Line Your Lips With Glitter
This is a simple beauty trend that has people talking. Instead of rocking red lipstick that's just going to end up on your cocktail glass by the end of the night, try lining your lips with a metallic or glitter pigment with a small makeup brush. To make things super easy, opt for a glitter liquid eyeliner which you can find at any drugstore. You'll outshine the night with this simple makeup hack.
4) Relax Facial Muscles With Botox
Botox is a great option for noticeable rejuvenation without having to undergo any major facial surgery for the holidays. This injectable relaxes underlying facial muscles to achieve smooth skin on the surface. While the drug is in effect it will also prevent any new creases from forming. The effects of Botox will last anywhere from three to six months, giving you wrinkle-free skin for the holidays and into the new year.
5) Reduce Wrinkles with Dermal Fillers
Dermal fillers are injectables similar to Botox. They work their magic by adding volume back into the skin to fill in lines or deep creases. They work best filling in the small lines around your lips known as smoker lines. Dermal fillers will also last several months leaving you with fresh, smooth skin after the holiday season has come and gone.
Both of these minimally invasive treatments only take a couple of days to a week to take full effect. Perfect timing for this holiday season!
While both of these treatments are considered safe, you want to have the injections done by a board-certified plastic surgeon or dermatologist. Botox or filler needs to be injected in exactly the right place on the face in the correct dosage, so knowledge of facial muscle anatomy, as well as experience in beauty aesthetics, is desired.
6) Make a Statement With Your Necklace
Attention-grabbing necklaces are a great way to spruce up any holiday outfit. Gold and silver are the best colors this holiday season, and bigger is better. The right necklace can turn any outfit into a festive piece instantly.
There are a ton of beautiful statement necklaces available that won't break your already slim holiday budget.
7) Add Holiday Highlights
A fully contoured face has been all the rage this year when it comes to makeup trends. However, it's also the perfect time of year to try out a new trend called highlighting. Highlighting, or to use the more fun term "strobing," makes your skin glow with very little effort.
Once you find the perfect highlighter for your skin tone, apply it in areas that catch light naturally. These places include your cheekbones, down the bridge of your nose, in the corners of your eyes and along your temples. Once blended, your skin will glow beautifully and look amazing in every pose you strike.
8) Step Into The Holidays in Style
Thigh-high and over-the-knee boots have been making a serious comeback this season. Forget booties and heels, tall boots are where it's at right now.
Over-the-knee boots look best with a short, long-sleeved dress. This style shows just the right amount of thigh and complements your legs big time. Pair with some knee-high ivory-colored socks to pull your holiday outfit together perfectly!
9) Go With the Velvet Trend
Velvet makes the perfect outfit this season because not only is it one of the hottest trends, but it will also keep you warm and cozy with the temperatures dropping!
The best thing about this trend is that everything velvet is in. So whether you're thinking about velvet boots, a velvet dress, velvet pants, or a velvet top you're already on top of the fashion game this season. Another great thing about this trend is it looks so luxurious without having a huge price tag attached to it. Get your velvet and party on this holiday season!
10) Get Your Glitz and Glam On
Sequins speak volumes during the holidays. Glitter head to toe in a beautiful sequin dress will instantly make you the talk of the party. Whether your dress rocks sequins of a single color or goes bold with a harmony of hues, you're sure to shine bright and make a statement.
Reviewed December 15, 2016
By Michele Blacksberg RN
Edited by Jody Smith
Read more in HER Beauty