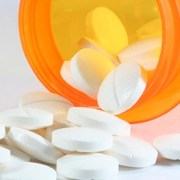 iStockphoto/Thinkstock
The regular use of aspirin has a good reputation for warding off heart disease, and those who take their daily dose may be getting an additional benefit. They may be preventing the appearance of Barrett's esophagus.
A relatively rare condition, in Barrett's esophagus damage occurs to the esophageal lining, which is worrisome because of its link to esophageal cancer.
"Aspirin use appears to reduce the risk of Barrett's esophagus (BE)," said the American Gastroenterological Association in a July 23, 2012, news release. The statement is based on research out of the Massachusetts General Hospital Institute for Technology Assessment.
Dr. Chin Hur, lead author of the study, which appears in an AGA journal, said the "protective effect of aspirin use appears robust."
Hur and his team of researchers analyzed characteristics of 434 BE patients for factors that might be used in screening and management. In addition to finding that those taking aspirin were 44 percent less likely to have BE, they also found that men were more than three times more likely to develop BE than women.
BE is the largest known risk factor for esophageal cancer and, as the news release points out, the incidence of esophageal cancer has been increasing at an alarming rate during the past few decades.
Does this mean we all should be taking aspirin on a regular basis?
Hur advises against it if preventing Barrett's esophagus is the only goal.
"To start taking aspirin to prevent Barrett's is probably not realistic, and if that were the only reason I'd be hesitant to recommend it," said Hur, an assistant professor of medicine at Harvard, in a recent New York Times health column.
"But there are other indications for taking aspirin, preventive benefits for cancer and heart disease."
The study credits aspirin for inhibiting the production of COX-2, an enzyme that prompts inflammation and pain.
In Barrett's esophagus, the normal squamous cells of the esophageal lining turn into unusual columnar cells that mimic the lining of the intestine. The damage sometimes occurs in people with chronic heartburn or gastroesophageal reflux disease (GERD).
Less than 1 percent of those with Barrett's esophagus develop cancer of the esophagus, according to the health library of Massachusetts General.
Symptoms of BE include:
- Waking in the night from heartburn pain
- Vomiting
- Difficulty in swallowing
- Blood in vomit or in stool
Because there is no cure for BE, doctors turn to medications such as H2 receptor antagonists and proton pump inhibitors to prevent further damage to the lining.
In some cases, the treatment might call for a surgical procedure known as fundoplication (removal of a small part of the esophagus) or a dilation technique that expands the opening of the esophagus.
Chronic heartburn should always be evaluated by a health care practitioner, not just because of the possibility of Barrett's esophagus.
Besides BE, another long-term complication that can arise from GERD, or chronic heartburn, is esophagitis, in which the esophageal lining is subject to erosions or ulcers, leading to pain and bleeding.
Doctors also want to check for strictures caused by damage to the lining, because they can interfere with normal eating and drinking.
Sources:
"Barrett's Esophagus." Massachusetts General Hospital, Conditions & Treatments. Web. 6 August 2012.
http://www.massgeneral.org/conditions/condition.aspx?ID=53&type=conditions
Bakalar, Nicholas. "Aspirin May Head Off Esophagus Disorder." The New York Times, "Well" column. Web. 6 August 2012.
http://well.blogs.nytimes.com/2012/07/30/aspirin-may-head-off-esophagus-...
"Aspirin Protects Against Barrett's Esophagus." American Gastroenterological Association news release. Web. 6 August 2012.
http://www.gastro.org/news/articles/2012/07/23/aspirin-protects-against-...
"Long-Term Complications of GERD." Cleveland Clinic, Diseases & Conditions. Web. 6 August 2012.
http://my.clevelandclinic.org/disorders/gastroesophageal_reflux_gerd/hic...
Reviewed August 6, 2012
by Michele Blacksberg RN
Edited by Jody Smith
Tags: