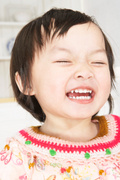 Autism affects one in every 110 children within the United States and is known for the social and behavioral restrictions it can place on those with the disease.
On Nov. 11 a press conference was held by the Center for Autism and Related Disorders, Inc. (CARD) to release the findings of a study that the state of Arizona funded in 2007. The study concluded that children are able to fully recover from autism, said Dr. Doreen Granpeesheh, CARD founder, executive director and autism expert.
"We are gathered here to celebrate," said Granpeesheh, about the success of the study.
Beginning in 2008 researchers used an intense 3-year program called Applied Behavioral Analysis to improve different functions of 14 children ages 2 to 5 years old. Approximately half, or 43 percent, of the children involved showed no signs of clinical autism at the end of the program. This shows that clinical autism can be treated with results ending in full recovery.
"We are extremely delighted with the results," said Granpeesheh.
The state provided approximately 1.8 million dollars a year for the study that involved a computer-based program called Skills. It first evaluates the children and pinpoints areas the children need help improving in one or more areas including social, motor, language, adaptive, executive, cognitive, academic and play. The children were then given web-based lessons and one-on-one time with instructors for up to 40 hours a week.
This "intensive" group is being compared to groups of children around the world who did not receive as intensive care, and "are not doing as well," said Granpeesheh.
The applied behavioral analysis is the process of learning and motivating by increasing skills and decreasing challenging behaviors and has been used for almost 30 years.
Granpeesheh also said that as the children's skills and behaviors improved, the parents involved in the program had a decreased level of stress.
Many of the children who were in the study are now in regular classrooms. Megan Howell who is now 7 and in the first grade at Copper Canyon Elementary School, had no signs of a child with autism and as she stood in front of the room there was a deep sigh of admiration when she said "Hi, my name is Megan," with no hesitations and a big smile.
Granpeesheh hopes that the program will be able to be used in schools districts everywhere for the benefit of those children with autism, and the program is currently being used in California as a training tool for autism professionals, parents and teachers.