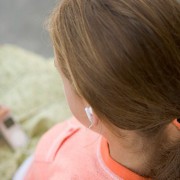 Photo: Getty Images
Is autism more common in men or women? Although statistics seem to show that there is a significantly higher prevalence rate of autism spectrum disorders in men, some women autism advocates believe there needs to be a better understanding of women who have autism.
National Autism Awareness Month
Awareness of autism in general is increased through days, weeks and months dedicated to autism, like the upcoming National Autism Awareness Month in April, and World Autism Awareness Day on April 2.
Amanda Glensky, a spokeswoman for Autism Society, said in an email that National Autism Awareness Month started as National Autism Week in 1970, and grew eventually into a full awareness month.
"Each year, the Autism Society strives to take advantage of the public's month-long focus on autism to inspire people to join with us in our mission to improve lives," Glensky said.
One major initiative of the Autism Society is to focus on the current budget crisis.
"State and federal budget cuts threaten to hurt access to needed services and supports," Glensky said. "Already, people with autism are unemployed or underemployed, and often, families struggle to provide support for their loved ones."
Women with autism
Sharon daVanport, the executive director of Autism Women's Network, said that more clinicians and leaders in the autism community are recognizing that autism is not just a man's diagnosis.
"They're thinking that that margin is not as wide as they thought it was," daVanport said.
She said men with autism might be more obvious than women, since even at a young age women are held to higher standards in behavior, and they try to meet those standards.
"Females are learning to pretend, we're learning to mimic other people," daVanport said. "We watch other people and how they talk, how they do things. And we become very good actresses, and because of that we tend to go unnoticed until we get older. Most females diagnosed on the autism spectrum, many are adults before they actually are detected."
She said there are some obvious differences between men and women who have autism. For example, women generally adapt socially with more ease than men. Hormones during pregnancy can also change brain chemistry, and women with autism might "mature" more after having a child.
"Nobody ever questions that men and women are different in general, but then when they start talking about autism, they expect that … females and males should be exactly the same," daVanport said. "No man or woman is exactly the same. There's striking differences in how women tend to have more empathy."
Glensky said that people with autism are all different, not just because of gender.
"Autism is a spectrum disorder, so each person with autism is very different," Glensky said. "These differences are not just based on gender, age and severity of their condition. At the Autism Society, we like to say: if you've met one person with autism, you've only met one person with autism."
DaVanport said she thinks basic research should be conducted to better understand women with autism at any age.
"We need to get some better diagnostic assessments that take into account the way females present on the spectrum," she said. A lot of research only focuses on men, so any results from that research might not apply to women on the spectrum.
Valerie Paradiz, director of special projects at the Autism Research Institute, said she thinks awareness of women with autism is only beginning.
"I think that like many other fields in research, a bias has been toward diagnosing men and boys, as well as just research," Paradiz said.
Women do tend to be overlooked diagnostically, she said, including herself.
"I was the passive, quiet student who did her studies all day long," Paradiz said. "I was 'well-behaved' … and I think quite often that type of person on the spectrum is easily overlooked if they don't have the kinds of behaviors that are difficult for others to tolerate."
She said statistics that emphasize how many more men than women have autism can be upsetting.
However, this bias toward men could change with new research centers like the Center for Excellence in Autism at the University of Toledo in Ohio.
"They will have research and a clinic focused on women and girls on the spectrum there," Paradiz said. Women can go there for health concerns and work with doctors who know how to treat people with autism.
She said one focus of research on women with autism could focus on the hormonal cycle. She also thinks there should be more education on sex and abuse for women with autism, and unemployment is still an issue because many people with autism spectrum disorders don't have full-time jobs. This could be a result of discrimination.
Personal experiences with autism
DaVanport herself is on the autism spectrum, and was diagnosed at age 40. She turns 47 in July. She said she was raised before the diagnosis for Asperger's disorder was available.
"I had a lot of social challenges, but I had a lot of strengths too," daVanport said. "I was really good academically … I was gifted in school … Socially I was very delayed. I used to watch other girls to even know how to talk, walk, dress. I just had no clue as to how to even blend socially, and my mother saw all these struggles, but they didn't have a name for it, they didn't know what I was struggling with."
She believes her autism has helped her with being able to focus.
"I've had my friends tease me and say I have a bionic focus ability," daVanport said.
Before she knew about her diagnosis, she said she had some trouble with relationships.
"I misunderstood people, because I didn't know how I processed information," daVanport said. "Once I learned how my mind works and how I processed language and how I processed my environment … that was half of it right there."
For example, instead of getting offended at something someone said and shutting down, she said she would clarify what was said by asking questions.
She ended up starting the Autism Women's Network with a group of women on the autism spectrum.
"We wanted to start an organization that was inclusive straight across the board to all ASDs," daVanport said. The website, which has been around for about 15 months, is a place for a supportive community for people on the autism spectrum.
Her success with the website and self-advocacy led to an invitation to the White House twice last year, and she recently received a Spectrum Award "for the work and contributions that we've done in autism this past year." She will also be featured in a documentary about autism called the United States of Autism. The trailer for the film will be released on April 2, which is World Autism Awareness Day.
Paradiz was diagnosed with Asperger's when she was 40. She said she had three sisters who helped her develop.
"When we were growing up, I'd go in the bathroom, we'd all be getting ready for school, and they'd be curling their eyelashes and putting on makeup and talking about boys," Paradiz said. "I just thought it was all very superficial and dumb, and I didn't understand that what I was actually listening to while they were talking about this was helping me navigate in the hallways and basically 'pass' more than others might've who didn't get that kind of social coaching."
She didn't seek an evaluation until she had some problems with employment, and one of her friends on the spectrum told her she was an "aphid," which is an "autistic parent heavily in denial", since she currently has a son diagnosed with autism. Her friend encouraged her to find out if she had autism.
After her diagnosis, she found it challenging to adjust for a little while and talk to others about her diagnosis. However, she learned how to handle her different sensory sensitivities.
"Now I just take care of what I need to do to remain regulated, and I don't feel like I have to hide it or make up other reasons why I'm doing the things I'm doing to stabilize myself," Paradiz said.
She had suffered from depression, but found that the depression was secondary to her Asperger's. She received help from a therapist to deal with her Asperger's and relationships with men.
"I had been in a very abusive relationship … during the time of my diagnosis," Paradiz said. After sitting on a panel with women on the autism spectrum, she found that all six women had been sexually abused.
"For me, I think a lot of that was due to a kind of social naivety, a trusting quality, that what people say they mean," Paradiz said. When she was able to work through all these issues, she became happier.
She works for the Autism Research Institute, and is part of a new "Autistic global initiative," which develops initiatives relating to adult issues with input from people on the autism spectrum. She also created the Integrated Self Advocacy curriculum, which was published in 2009.
"I wrote a curriculum for teachers and therapists so that they could support people with autism and other disabilities in learning how to advocate for themselves," Paradiz said.
For example, the curriculum encourages "making requests for sensory accommodations," like turning the lights down because of light sensitivity. The University of Toledo will use her curriculum, she said.
Autism is not a tragedy; the push for acceptance
Some people hope for a cure for autism, but others hope for acceptance of differences.
"The Autism Society promotes research but our focus is on improving services and supporting and advocating for the things people need that impact their lives today," Glensky said.
Paradiz said she doesn't like how people use the word "disorder," but prefers using the words "different" and "diagnosis" to refer to autism.
"I do not support the notion of throwing every single piece of funding into finding a cure," Paradiz said. "I feel like it's unrealistic and costly and overlooks what's happening right now with the number of people who are not working, and the number of people who could be with enough support."
Some people with ASDs do need special medical intervention, and have different medical problems, like GI issues, she said.
She said the focus needs to be not on curing, but "improving quality of life and access to medical care."
DaVanport feels that many people think of autism as a tragedy.
""It really doesn't have to be portrayed that way," she said. "There's a lot of positive things. A lot of self-advocates are hoping that more and more, people are moving toward acceptance … and not just focusing on challenges, because everyone has challenges, not just people who are autistic."
However, some people with autism do have challenges that require assistance and support, and daVanport recognizes that.
"There's no doubt that it's a spectrum, and there are going to be people on the spectrum who have absolute challenges and need different levels of support," she said. "That can't be ignored. What is important though, for someone's dignity and respect as a human, is to make for sure that we're paying attention to the language that we use, that we don't paint such a grim picture."
Acceptance can spread to other diagnoses as well, like for people who have anxiety and depression.
"You want people to look at you as an entire person, and respect you for the fact that you've been able to have a lot of strengths," daVanport said. "The overcoming kind of language is … a little insulting to a lot of self-advocates. They're like 'why do people say we have to overcome our Asperger's to succeed.'"
People who are diagnosed with autism or other disorders can help themselves but just learning about the disorder.
"Learn how you process your environment and what your triggers are," daVanport said.
For example, she learned how her senses play a part in her autism.
"People on the spectrum are very sensory-driven people," daVanport said. "We're sensitive to so many things, we have a very delicate sensory code."
When people don't understand how they process information, they can overdo it, she said.
Resources:
http://usofautism.com/
http://autismwomensnetwork.org/
http://autismwomensnetwork.org/FAIM/
http://www.rethinkingautism.com/RethinkingAutism/Autism_Support_Group_Video.html
http://www.autismselfadvocacy.com/
http://www.djfiddlefoundation.org/
http://autism.com/