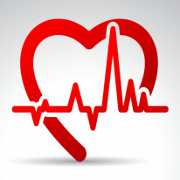 Photo: Getty Images
Have you recently been diagnosed with angina? Perhaps you have a family member or friend who's living with angina and you'd just like to understand more about it and what it means to live with it. Is it the same thing as heart disease or a heart attack? What is angina anyway?
To better understand angina, you need to understand what it is -- and what it isn't. Firstly, angina isn't heart disease. Rather, it's a symptom that serves as a red flag to more serious underlying heart conditions such as coronary artery disease, also known as CAD or heart disease, coronary microvascular disease, or MVD.
CAD occurs when plaque builds up in arteries causing them to narrow and reduce and in some instances block the amount of normal blood flow. This narrowing or blockage may lead to blood clots, heart attack, and even death. Unlike CAD, MVD affects only small coronary arteries, is more common in women than men and does not cause narrowing or blockage.
Approximately seven million people in the United States alone have angina. These numbers aren't really surprising given the fact that heart disease is the number one killer in the United States. Similar to symptoms of a heart attack, angina is characterized by feelings of "pressure or squeezing in the chest."
Other symptoms may include pain in other areas such as the neck, jaw, shoulders, back, arms, or feelings of indigestion, nausea, unnatural fatigue, general weakness, sweating, light-headedness, dizziness, and shortness of breath. Women are more likely than men to experience pain in the back, stomach, neck, jaw, or throat.
There are four main types of angina -- stable, unstable, variant (Prinzmetal's) and microvascular. It's important to know which type of angina you suffer from because the symptoms, underlying causes and treatment may vary depending on the angina type.
*Stable: the most common; the heart works harder than normal; has regular, predictable pattern of when pain occurs and how severe it will be; indicates potential future heart attack; triggered by physical exertion, stress, smoking, heavy meals and extremes in temperature.
*Unstable angina: the very dangerous form; heart attack imminent; medical treatment should be obtained immediately; generally occurs in older adults; no pattern to episodes or pain; may or may not be relieved by rest or medicine; physical activity may or may not be involved; indicator that heart attack is imminent; caused by blood clots.
*Variant (Prinzmetal's): very rare form with only two out of every hundred cases falling under this category; occurs at rest, generally between midnight and morning; relieved by medicine; more common in younger adults; triggered by coronary artery spasms caused by stress, certain medication, smoking, cocaine usage, and exposure to cold temperatures; may occur in people who do not have CAD.
*Microvascular: symptom of MVD; pain level higher and episodes longer than other forms of angina; may not be relieved by medicine; more common in women; 70 percent of cases occur after the onset of menopause.
Because angina is a symptom of an underlying heart condition, anyone who is at risk for CAD or MVD, is also at risk for angina. It's important to understand your risk of CAD and MVD and take action to reduce any risk factors that can be controlled by lifestyle changes or medication.
There are two types of risk factors for CAD and MVD -- those you can change and those you have no control over. Risk factors you can change include items such as too much LDL or bad cholesterol, too little HDL or good cholesterol, high blood pressure, smoking, diabetes, being overweight or obese, lack of physical activity and poor diet. Risk factors you can't change include family history and age. Reducing controllable risk factors for CAD and MVD may also reduce your risk of angina.
Anytime you experience chest pain, especially if you have not previously been diagnosed with angina, you should seek medical attention. While angina is not a heart attack it is a symptom which, if addressed, can lead to early diagnosis and treatment for CAD and MVD and perhaps prevent a heart attack.
Sources:
What is Angina? National Heart Lung and Blood Institute. June 2011. http://www.nhlbi.nih.gov/health/dci/Diseases/Angina/Angina_WhatIs.html
Mayo Clinic Staff. Angina. The Mayo Clinic. 24 Jun 2011. http://www.mayoclinic.com/health/angina/DS00994
Reviewed August 29, 2011
by Michele Blacksberg R.N.
Edited by Malu Banuelos