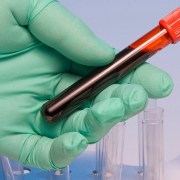 Photo: Getty Images
In general, the Western Blot test is ordered after obtaining two consecutive positive results of the enzyme-linked immunosorbent assay or ELISA test for HIV. It is a more difficult test than the ELISA but also more accurate. Source: WebMD, WebMD Medical Reference from Healthwise; Article Title: Human Immunodeficiency Virus (HIV) Test; Last Updated: 8th April, 2010; URL: http://www.webmd.com/hiv-aids/human-immunodeficiency-virus-hiv-test). The Western Blot test is also known as the Immunoblotting or Protein Immunoblot Test.
The Western Blot test is an analytical technique--as opposed to the qualitative rapid test techniques--that helps in the detection of particular proteins present in the tissue or other extracts from the person being tested. Along with one or more positive results obtained from an ELISA test, a positive Western Blot result means a 99.9 percent chance that the tested person has acquired the HIV virus.
The Western Blot test uses a set of techniques which separates the native proteins from a tissue sample or blood extract. This separated protein is then transferred to a membrane where it is examined using antibodies specific to the target protein. Both separation and transferring of the protein for further examination involves a few sets of complicated steps. (Source: Proceedings of the National Academy of Sciences USA 76 (9): 4350–54. doi:10.1073/pnas.76.9.4350. PMC 411572; Report Title: Electrophoretic transfer of proteins from polyacrylamide gels to nitrocellulose sheets: procedure and some applications; Author(s): H, Staehelin T, Gordon J.; URL: http://www.pnas.org/content/76/9/4350).
Protein has been extracted from its source and transferred onto a membrane because of the membrane's ability to bind protein. At this point, we must realize that we now have a situation where both the antibodies used for detection are also proteins by nature and must not react with the membrane. In order to achieve this, a blocking technique is used which prevents the interaction of membrane and antibodies.
So when the antibodies are added, no membrane attaches itself to them. The attachment or interaction occurs on the binding sites of the specific target proteins only. This reduces clutter in the report or result in the Western Blot, giving clearer results and eliminating false positives. Lastly, the detection is done using the primary antibody and secondary antibody processes. (Source: Wikipedia; Article Title: Western Blot; Last Updated: 10th June, 2011; URL: http://en.wikipedia.org/wiki/Western_blot)
Mild variations of the Western Blot test exist and are applied as per the decision of the doctors after patient assessment.
INFORMATION IN THIS ARTICLE IS NOT MEDICAL ADVICE. ALL INFORMATION GIVEN IS TO BE CHECKED WITH YOUR DOCTOR BEFORE IMPLEMENTING OR TAKING THEM AS STANDARD OR VERIFIED.
Reviewed June 22, 2011
Edited by Alison Stanton
Mamta Singh is a published author of the books Migraines for the Informed Woman (Publisher: Rupa & Co. URL: http://www.amazon.com/Migraines-Informed-Woman-Tips-Sufferer/dp/8129115174/ref=sr_1_2?ie=UTF8&s=books&qid=1298990756&sr=1-2), the upcoming Mentor Your Mind (Publisher: Sterling Publishers) and The Urban Woman's Integrated Fitness Guide (Publisher: Hay House India). She is also a seasoned business, creative and academic writer. She is a certified fitness instructor, personal trainer & sports nutritionist through IFA, Florida USA. Mamta is an NCFE-certified Holistic Health Therapist SAC Dip U.K. She is the lead writer and holds Expert Author status in many well-received health, fitness and nutrition sites. She runs her own popular blogs on migraines in women and holistic health. Mamta holds a double Master's Degree in Commerce and Business. She is a registered practitioner with the UN recognised Art of Living Foundation. Please visit www.mamtasingh.com
Tags: