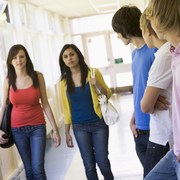 MonkeyBusiness Images/PhotoSpin
On EmpowHER we answer questions daily from young people not using protection during sex. They can end up pregnant or with sexually transmitted infections that can lead to diseases that cause cancer, AIDS and infertility.
From our many conversations it seems like the most common fears are pregnancy and diseases like herpes and HPV. Our readers are aware of the risks but don't use protection for a variety of reasons.
They forget to buy it, their partners don't want to use condoms or claim to be "clean" or they simply get caught up in the moment and believe they'll be fine.
It's only the next day that they realize the mistakes they made and come to us asking questions about their risks, or looking for reassurance.
Not many talk to us about their fears for HIV, the virus that causes AIDS. But perhaps they should, since a new report from the CDC states that half of young people with HIV don't even know they have it.
The Centers for Disease Control and Prevention says that 12,000 Americans between the ages of 13-24 tested positive in 2010 for HIV but more than half -- nearly 60 percent -- had no idea they might have had it.
Most at risk are gay and bisexual males who, the CDC reports, are more likely to engage in risky (not using condoms) sexual behavior with multiple partners and were more likely to be under the influence of drugs and alcohol.
Young women need to be vigilant about condom use if having sex with a bisexual partner.
EmpowHER has discussed the topic of HIV/AIDS on many occasions. Here are some AIDS and HIV statistics from our website:
• More than one million people in the U.S. currently have HIV
• 1 in 5 people with HIV don't know they are infected
• Someone is infected with HIV in the United States every 9 ½ minutes
Everything you need to know about HIV/AIDS can be found in our extensive HIV/AIDS Center here at https://www.empowher.com/media/reference/aids-and-hiv-center/
If you have questions or concerns, please post a question in our lively ASK section. We guarantee you a response in 24 hours or less!
You can also set up a support group in our Groups section. Browse www.empowHER.com for all your options!
More information coming from the CDC is that research has shown only about 13 percent of high school students are tested for this disease. Teens who know they are at risk need to be tested but many have stated they are not being educated about this at school.
You can ask your doctor to be tested but if you prefer, anonymous testing is available almost nationwide. A person can submit their zip code and find a center near them. There are 4500 locations in the United States so there should be a place near most people interested.
Find a center here: https://www.tstd.org/
Knowing your status can mean the difference between life and death in some cases, but it also certainly changes your health in general and the longevity of your life. HIV/AIDS is no longer a death sentence and most people live happy and healthy lives with a positive status.
It's worth your weight in gold to know where you stand, and can eliminate your risk of passing it on to someone you care about.
SOURCES:
Centers for Disease Control and Prevention. NCHHSTP Newsroom. Press Release. "More Than Half of Young HIV-Infected Americans Are Not Aware of Their Status". Web. Retrieved Dec 10th, 2012.
http://www.cdc.gov/nchhstp/newsroom/2012/Vital-Signs-PressRelease.html
EmpowHER.com. AIDS/HIV. AIDS and HIV Statistics by Denise DeWitt. Web. Retrieved Dec 10th, 2012.
https://www.empowher.com/aids-hiv/content/aids-and-hiv-statistics
Tell Us
Are you or someone you know living with HIV/AIDS? Do you worry you may have it but are afraid to get tested? Tell us your story.
Reviewed December 17, 2012
by Michele Blacksberg RN
Edited by Jody Smith