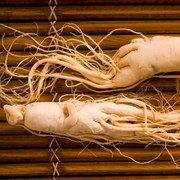 iStockphoto/Thinkstock
American ginseng, otherwise known as Panax quinquefolius, has been studied quite a bit for its effect on fatigue, blood sugar, and the immune system.
New research presented by the Mayo Clinic at the 2012 American Society of Clinical Oncology annual meeting found that this particular ginseng, when used daily for two months, helped ease exhaustion in breast cancer patients undergoing treatment.
A similar study was done and presented upon at the 2007 annual meeting. It's important to note that American ginseng is much different than Asian ginseng and should not be confused.
In the study, participants were given 2000 mg of pure, ground American ginseng root in a capsule, which is different from the liquid forms commonly called 'tinctures' and processed with ethanol. While tinctures of ginseng are common, the ethanol makes them not appropriate for breast cancer patients.
The active ingredient is called ginsenosides and is known to help support the immune system and the adrenal glands, which are responsible for cortisol production and stress response.
The effect is not immediate, as demonstrated in the study, as participants did not notice a difference after only four weeks however at eight weeks they were feeling much improved.
American ginseng is commonly sold over the counter and at many supplements stores. Be aware, though, that not all ginseng quality is the same so make sure you know where your herbs are coming from.
Also know that it may have some potential side effects such as insomnia, restlessness, diarrhea, and headaches.
The Asian ginseng is more stimulating and more commonly associated with high blood pressure. Neither form of ginseng should be taken with blood thinners or blood pressure medication.
American ginseng has also been studied as a blood sugar-lowering herb, therefore if you experience hypoglycemia (a drop in blood sugar) or are being treated for high blood sugar you will need to monitor your numbers regularly.
If your mildly elevated blood sugar levels are not being treated, consider talking with your health care provider about using American ginseng and retesting after a period of time to see how it has worked.
Even for those who aren't treating cancer, ginseng can be used for fatigue and stress.
Make sure you take it in the morning though as it may keep you up at night and don't give up on it after a week or two. Remember it can take a full eight weeks to notice a difference.
References:
1) Ginseng Fights Fatigue in Cancer Patients, Mayo Clinic-Led Study Finds. Web. 10 June, 2012.
http://www.mayoclinic.org/news2012-rst/6907.html
2) Ginseng, Donepezil, and Modafinil for Fatigue in Cancer Patients. Web. 10 June, 2012.
http://www.medscape.com/viewarticle/557676
3) American ginseng. Web. 10 June, 2012.
http://www.umm.edu/altmed/articles/american-ginseng-000248.htm
4) Ginseng May Help Control Blood Glucose. Web. 10 June, 2012.
http://www.medscape.com/viewarticle/457284
Reviewed June 11, 2012
by Michele Blacksberg RN
Edited by Jody Smith