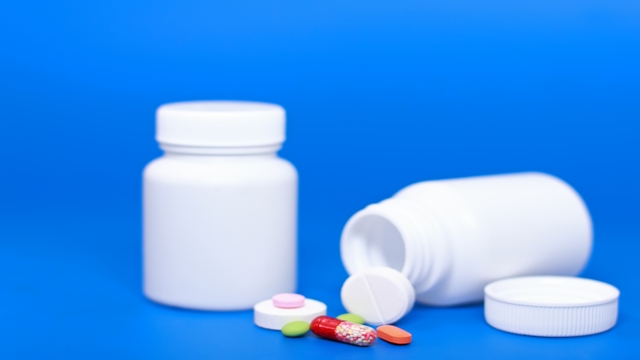 Vitas/PhotoSpin
No one wants to end up in the hospital on dialysis after taking an antibiotic for the sniffles. As we enter flu season, let's be sure we're not taking antibiotics unless those flu-like symptoms are truly caused by bacteria that can be killed by the drug.
Bacteria cause some infections that resemble flu, including strep throat and severe sinus infections. Antibiotics are often effective for bacterial infections. But for viral infections, including true cases of the flu, antibiotics do no good and in all cases, they have risks of doing harm.
Acute tubular necrosis is one risk of antibiotics. This is a type of kidney damage that accounts for about 45% of acute renal failure. Many commonly used antibiotics can cause acute tubular necrosis, including tetracyclines, vancomycin, sulfonamide, polymyxin, pentamidine, foscarnet, cephalosporins, bacitracin, amphotericin B and the aminoglycosides.
The aminogylcosides include streptomycin, gentamicin, and amikacin, and are the most widely used antibiotics. Their effects on the kidney have been studied in detail. About 10% of the total dose accumulates in the kidneys, where the concentration of antibiotic rises to several times that in the bloodstream. Antibiotics interfere with the ability of the kidney tubules to filter the blood.
Kidney damage from antibiotics is a serious side effect. Hospitalized patients who develop acute tubular necrosis (ATN) have a 50% chance of dying; those who survive require longer hospital stays and more treatment, often with dialysis. ATN can be caused by other factors, including snake or insect venom or industrial chemicals. But patients who are already sick, including those with the flu or other infection, are at increased risk.
Many people go to their doctors and ask for antibiotics when they have flu-like symptom such as malaise (a general feeling of illness or lack of well-being), fever, and fatigue, accompanied by a variety of respiratory and gastrointestinal symptoms. The decision to use any drug should be based on a well-informed balance of the risks and benefits. See
http://www.mayoclinic.com/print/antibiotics/FL00075/METHOD=print
by Linda Fugate, Ph.D.
References:
Rosen S, Stillman IE, "Acute tubular necrosis is a syndrome of physiologic and pathologic dissociation", J Am Soc Nephrol 2008; 19: 871-875.
Nally JV, "Acute renal failure in hospitalized patients", Cleveland Clinic Journal of Medicine July 2002; 69(7): 569-574.
Nagai J, Takano M, "Molecular aspects of renal handling of aminoglycosides and strategies for preventing the nephrotoxicity", Drug Metab Pharmacokin 2004; 19(3): 159-170.