Having a child with intelectual disability - (An ex premmie baby).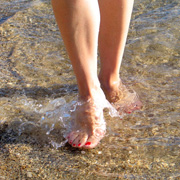 By
wizzy989
September 10, 2010 - 6:03am
We must have the patience in the world to deal with a disabled child. My son is a very sensitive little boy. I wanted to sing with him but he didn't like me singing for too long, because there was no music to go with it. My son loves music that he can listen to but to sing when there is no music present he does not like it much. He loves his fun game DVD very much because it has lots of colors, matching games memory games, picture games, nursery rhymes, and lots more activities for my son and he enjoys it very much. He is getting better at the matching games, I have taught him how to match them and now he does it himself. With my help he knows how to count to ten. My son still does not talk very well and has Speech therapy to help with his speech. Because of my sons condition it is funded through Noah's Ark a disability organization, and the Enhanced Maternal Nurse lets them know when it needs renewing then the fund goes to the Kindergarten where my son goes. I do not know how long my son will be on this funding but I was told that I do not need to worry about it. My 12 year old loves to interact with our 3 year old, they get along very well but some times my 3 year old would rather do things with out the 12 year old and my 3 year old tells my 12 year old to go away.