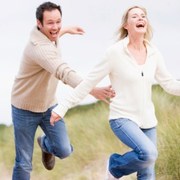 iStockphoto/Thinkstock
When was the last time you finished a conversation and slapped your head and said to yourself, "DOH! I meant to thank them for the gift!" or "I meant to apologize for ..." or "I meant to explain something that I said that may have offended them ..." or ... ??
Whenever I say something like that, my wife always comes back with this: "It's never too late ... "
You know, it's true. If you didn't say or do something that you really wanted to say or do, it's probably not too late ... Say it or do it now!
Here are some examples of things you may have wanted to say ...
• "I'm sorry," for something you did or said
• "I love you"
• "Thank you," for something that they did or said
• A compliment of some sort
• An explanation for something you think may have been misunderstood
Of course, there are exceptions. If, for example, if the other person dies or is in some other way permanently unavailable, then it IS too late. Come to think of it, that alone is an excellent reason why you shouldn't delay in repairing the error!
Think about it ... Suppose you sent a gift to a friend and she called you but didn't thank you for it. You'd wonder if she even received it, wouldn't you?
On the other end of the line, she hangs up the phone and then realizes that she forgot to thank you during the conversation. Did she blow it? Did she lose her chance?
Of course not! She can call you right back, she can send you an email, she can write a thank-you note on a piece of paper (remember those?) and send it in the mail (remember the mail??).
Would you be offended? No. Would you appreciate her appreciation of your gift? Of course! Would you resent her for not thanking you? Maybe, but not for long!
And so it is when it's you that forgot to say something important. You can fix it, though, either right away or the next day or the next time you talk to them, depending on the situation.
If it's something that is difficult to talk about such as, for example, an embarrassing mistake you made that you need to rectify, you can still bring it up the next time you have a chance ... a late apology is better than no apology at all.
It can be stressful to find yourself in this situation, thinking that you lost your chance. The point is that you DIDN'T lose your chance, because ...
... it's never too late!
Take our 5-minute survey on stress and download free gift: "Stressays" eBook http://budurl.com/su23/
Dealing with cancer, some other major illness, or life in general? Our free daily tips will help you cope: sign-up at http://www.CopingQuickies.com/
For even more stress management tips and techniques visit http://www.CopingUniversity.com/ where world-class experts share their wisdom to help you cope.
Hours of FREE online audio programs will help reduce your stress and restore your hope. Topics are unique, unusual, fascinating, and just plain fun! Learn how to find humor when nothing seems funny, how to love the way you look no matter what, and how to be romantic even during a serious illness.
Our online content is always free, so visit today! And, check out our YouTube channel for entertaining coping ideas: http://www.YouTube.com/copinguniversity/
Edited by Jody Smith