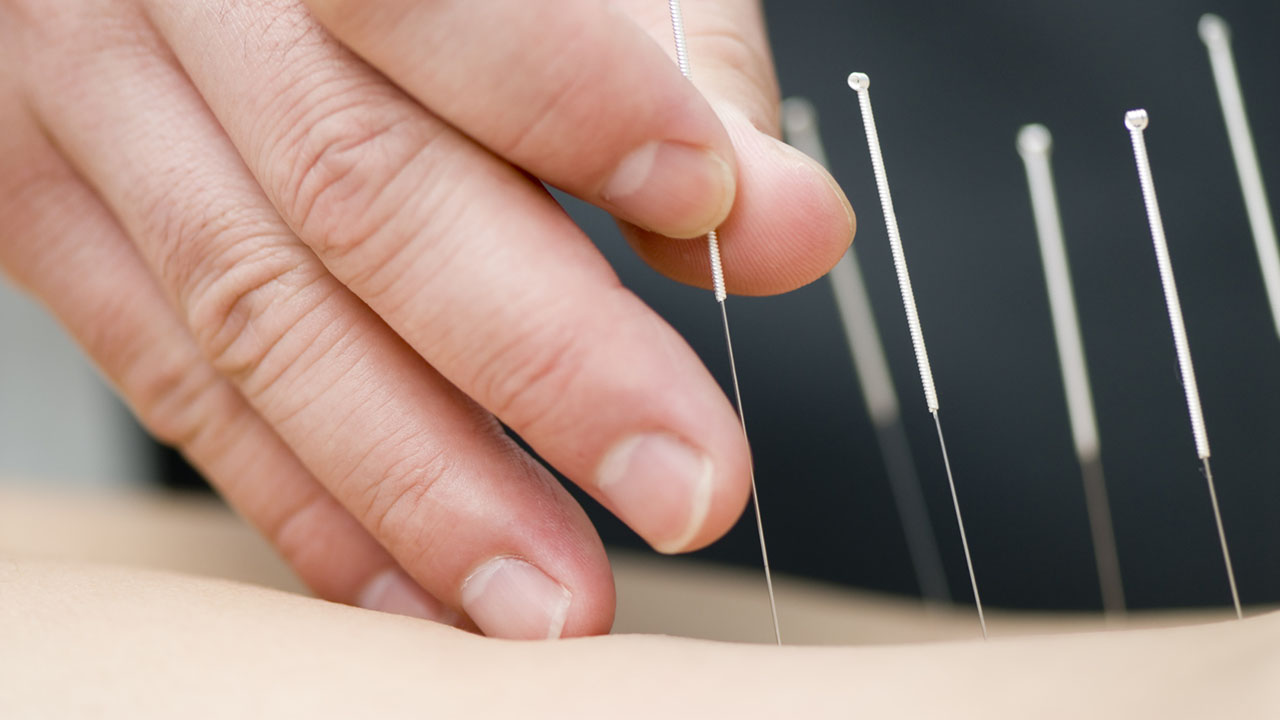 Max Tactic/Fotolia
When hot flashes really get under a woman's skin, some consider attacking in kind by employing acupuncture needles. However, as an alternative to drug therapy, it may be helpful to note that studies – including a newer, more robust trial released last month in the Annals of Internal Medicine from the University of Melbourne – don't find acupuncture to be any more effective in treating hot flashes than fake acupuncture.
"Unless further high-quality evidence emerges, we cannot recommend skin-penetrating acupuncture as an efficacious treatment of this indication; the effects, if any, of acupuncture on these symptoms seem to be unrelated to needling," the trial report reads.
But in giving due diligence to this ancient form of Chinese medicine, both real and sham acupuncture offer a 40 percent relief rate of hot flashes, meaning they're better than doing nothing. "Some women would be delighted with a 40 percent improvement! What I tell them is that we don't think that it was the needling that made the difference," says lead investigator Dr. Carolyn Ee, a family physician, medical acupuncturist, and doctoral candidate at the University of Melbourne.
"Perhaps it is something to do with seeing a therapist, or having the pressure on the skin, or perhaps they might have gotten better without having any treatment at all," Ee adds. The study, which treated 327 Australian women suffering seven or more moderate to severe hot flashes (or flushes, as they're charmingly referred to Down Under) per day for 10 weeks, began with twice weekly treatments for two weeks and then tapered off to once weekly, a common approach to acupuncture therapy, according to Ee.
The effects lasted as long as six months after treatment stopped. While there are variations in clinical practice, a typical acupuncture session begins with a Chinese medicine history and examination, which is quite different from a Western medical examination, according to Ee.
The Chinese physicians examine the tongue and pulse characteristics, for example, and then a number of fine metal needles are inserted into acupuncture points, 12 on average, though this number varies by practitioner. They are usually left in the skin and muscles for at least 20 minutes. Deqi, a specific sensation defined as numbness, heaviness, pressure, soreness or tingling, is sought by manipulating the needles.
Because study after study continues to show real acupuncture to be no more effective than sham acupuncture, including a 2008 study published in Menopause, the North American Menopause Society (NAMS) stated in a 2015 review of nonhormonal therapies for hot flashes that "Acupuncture cannot be recommended for the treatment of hot flashes."
The NAMS panel instead recommended either cognitive behavioral therapy (CBT) or hypnosis when hormone therapy was not appropriate and nonhormonal prescription therapies such as low-dose antidepressants or gabapentin were not desired, said Dr. JoAnn Pinkerton, M.D., N.C.M.P., executive director of NAMS.
Then what about the placebo effect of acupuncture? Pinkerton explains that this 40 percent success rate with real, and sham acupuncture would be right in line with an overall placebo rate of 30 to 60 percent for various hot flash treatments.
"Placebo rate is not well-understood but may be a central nervous response," Pinkerton says. "We have much to learn about how the process of acupuncture works on hot flashes so that we can understand and maximize its effects. The current theory is that acupuncture may trigger a reduction in the concentration of neurotransmitters found in the brain, which could activate the release of calcitonin, a gene-related peptide which regulates body temperature."
Ee says there is not standard criteria for establishing who is a good candidate for acupuncture. "We don't really know, and it's something I really want to explore. I have heard of a theory than 20 percent of people do not respond to acupuncture, and this might be because of genetic differences in opioid receptors," she adds.
"Some people should think twice about having acupuncture. Such as those on anticoagulants (due to the risk of bruising from the needle) and people with a low immune system (like poorly-controlled diabetics) should not have the type of acupuncture where needles are left in the skin for a few days, due to risk of infection."
Reviewed February 19, 2016
By Michele Blacksberg RN
Read more in Your Guide for Menopause & Hot Flash Treatment Options
Article Sources
Dr. Carolyn Ee, via email interview Feb. 12, 2016. https://www.researchgate.net/profile/Carolyn_Ee
Dr. JoAnn Pinkerton, M.D., N.C.M.P., via email interview Feb. 14, 2016. http://uvahealth.com/findadoctor/profile/JoAnn-V-Pinkerton
Avis, Nancy E. PhD, et al. A Randomized, Controlled Pilot Study of Acupuncture Treatment for Menopausal Hot Flashes. Menopause. 2008;15(6):1070­1078. . Retrieved February 11, 2016. http://www.medscape.com/viewarticle/583598
Carolyn Ee, MBBS, et al. Acupuncture for Menopausal Hot Flashes, A Randomized Trial. Ann Intern Med. 2016;164(3):146-154. doi:10.7326/M15-1380. Retrieved February 11, 2016. http://annals.org