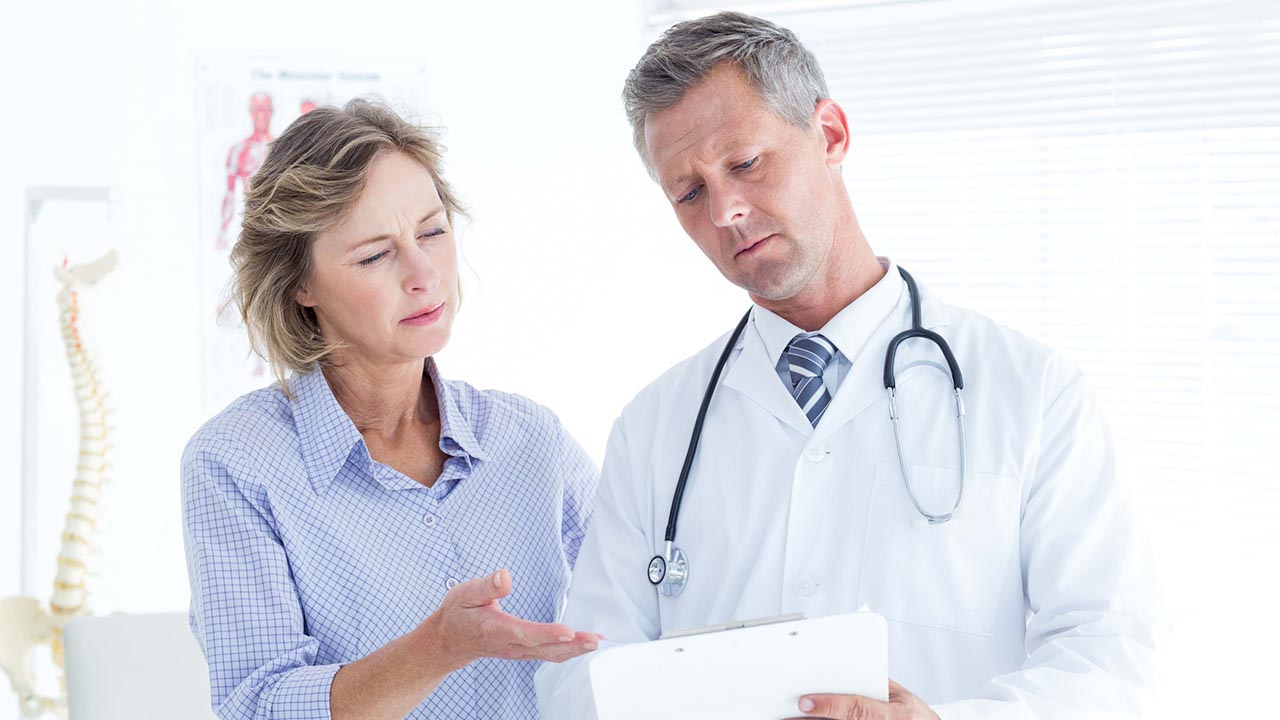 WavebreakMediaMicro/fotolia
My gynecologist is a hoot! He cracks corny jokes, and since he was raised in Canada, he often interjects a bit of French. He makes a doctor's visit fun. Even better, he listens when it's time to listen. His instructions on how to use medications are clear, and he answers questions carefully, with terminology I can understand.
Hot flashes can be a nuisance, and if severe, they can affect your life in dramatic ways. Your doctor is your strongest advocate in figuring out how to deal with them. Dr. Carolyn Clancy, the director of the U.S. Agency for Healthcare Research and Quality, says, "Having the right information—and putting it to good use—can make the difference in the results you get from your health care."
To get the right information from this valuable resource, you have to speak up. Describe your hot flashes to your doctor, including the emotional toll they may be taking on you. As your doctor responds, make notes. So many times, patients think they'll remember what a doctor says, but once they leave the office, they forget key parts of the conversation. Consider bringing someone with you to lend a second ear. He or she doesn't need to attend the exam but can be part of a consultation afterward in the doctor's office.
The National Women's Health Information Center suggests you ask plenty of questions once your doctor suggests a treatment plan: "Be sure to ask about all of your options for treatment. Ask how long the treatment will last. Ask if it has any side effects. Ask how much it will cost. Ask if it is covered by your health insurance." To make certain you understand the doctor's instructions, Dr. Clancy has this tip: "Repeat those instructions in your own words. Simply say, 'Let me see if I understand this ….' This gives you a chance to clarify information. Studies show that doctors and patients often have very different ideas of what the patient is going to do after leaving the doctor's office." Don't hesitate to repeat the question or rephrase it for clarity if your doctor doesn't seem to fully understand what you're asking.
Before you leave the office, find out the best way to follow up with concerns or questions. On my first visit, I asked my doctor: "May I contact you through email?"
"Nope," he said. "Just call Denise, my nurse, and she'll answer your question or check in with me." I left with the direct number to Denise, and that system has worked well.
Many doctors do communicate with patients via email, and this is a great way to contact them. If your doctor's office uses an online patient portal, the portal may offer secure email as well as access to your diagnosis, lab results, and treatment plan. Portals sometimes feature additional educational materials you might find helpful too.
If your doctor suggests lifestyle changes for treating hot flashes, such as modifications in your diet or a new exercise regimen, be sure to do as the doctor says and give these changes time. If you begin a medication to treat hot flashes, it may take a while to adjust to it. Be sure you use the medication exactly as instructed. Contact the doctor immediately if you have side effects that worry you, and let him or her know if you haven't been taking the drug as directed. Your doctor can't help you if you aren't open and honest.
It's crucial that you and your doctor become partners in your menopause journey. If the doctor you visit isn't helpful or sympathetic, switch to a new doctor. I actually look forward to visits with mine. I get a kick out of his jokes and the French phrases, but more importantly, I love knowing he and I can work together as I navigate the menopausal years. I'm practicing a French phrase of my own for my next visit: Merci au docteur! That means "Thanks to the doctor!"
Sources:
Finding Your Way: What's Your Health Literacy Score? AARP. Retrieved September 6, 2015. http://member.aarp.org/health/medical-research/info-04-2009/finding_your_way_0.html
How to Talk to Your Doctor or Nurse. Office on Women's Health, U.S. Department of Health and Human Services. Retrieved September 6, 2015. https://www.womenshealth.gov/publications/our-publications/talk-doctor-how-to.pdf
Reviewed September 15, 2015 by Michele Blacksberg RN
Read more in Your Guide for Menopause & Hot Flash Treatment Options