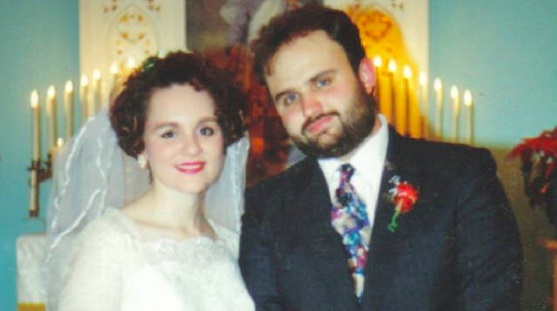 photo courtesy of Regina Holliday
In 2008, Fred Holliday went to the doctor with fatigue and hypertension. He had lost a lot of weight and intermittently had blood in his urine.
By January 2009, he had developed rib pain and a cough. In February, his lower back was aching and he was prescribed pain meds. In March, still lacking a diagnosis, Regina and Fred returned to their primary care doctor a fourth time. Regina demanded an MRI.
They weren't told the results, but Fred was immediately referred to an oncologist, who admitted Fred to the hospital the same day. Here, Regina told me, was where she made her first mistake.
"I left him in the hospital. Now I know you don't do that, you stay with the patient," said Regina. But there were kids to take care of, and she had to think of her job.
While Regina was at work, the physician paid Fred a visit in his hospital room. Sick, fearful and heavily dosed with the opiate Dilaudid, the doctor offered Fred a diagnosis.
Fred, in his compromised condition, understood the doctor to say he had a 3-centimeter tumor in his kidney.
"We went with that idea for a very long time," Regina shared.
This moment, when Fred was sick, drugged and alone with the oncologist, was the first link in a chain of miscommunications that inspired Regina to create a movement concerning patients' rights to their own medical information.
"Once a doctor mentions 'tumors' and 'invasive,' your ability to retain information is pretty poor," she asserted.
If Fred had hard-copy records, or even electronic access, the information could have been conveyed to his wife via the printed word.
But more on medical records later.
Regina arrived at the hospital after work and asked to speak Fred's doctor. He had left for a medical conference for four days, but she was given his email address and his phone number.
He didn't respond.
Every request to see Fred's medical records was met with refusal. The mantra, "The doctor is going to talk to you," kept Fred and Regina in the dark about Fred's diagnosis for days.
"There is a network of hierarchy that stops you from getting information about the patient. If you're doctor is not wanting to share information with you, you are in a world of hurt in the hospital," Regina said.
Regina didn't know she could have asked for a second opinion. "I was trying to educate myself. But when you first enter this world, the learning curve is steep, and it was too steep for me to protect Fred."
After four days with no information, Regina asked for the results of a recent PET scan when an on-call doctor came into the room. The doctor looked at her in disbelief.
"Nobody has talked to you?" the doctor asked.
"No," Regina answered. "Our doctor's not here. No one talks to us."
"Well, the cancer has spread everywhere," he said. "It's in his bones and lungs."
Fred, in fact, had more than just a 3-centimeter tumor. He had multiple tumors on his spine and a 9-centimeter tumor on his kidney.
"This was very important information we didn't have for far too long," Regina said.
Diagnosis
On March 27th, 2009, after months of chasing pain with analgesics and opioids, Fred was diagnosed with stage 4 kidney cancer.
Here is the five-year survival rate for kidney cancer by stage:(3)
Stage 1: 81 percent
Stage 2: 74 percent
Stage 3: 53 percent
Stage 4: 8 percent
Kidney cancer, also called renal cell cancer or renal adenocarcinoma, is known as a "kill cancer." It is diagnosed when malignant cancer cells are found in the tubules (small tubes) of the kidneys, and is lethal.(1)
Symptoms of kidney cancer can include:(1)
- Blood in the urine
- A lump in the abdomen
- Abdominal pain
- Loss of appetite
- Unexplained weight loss
- Anemia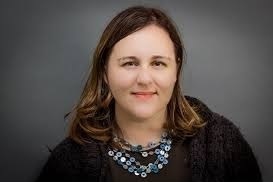 Regina Holliday, photo courtesy of Regina Holliday
73 Cents a Page and 21 Days
When their attending physician returned, he asked Fred, "Has your wife been asking questions about the case?"
Yes, of course.
"If little Miss A-type personality has questions," he derided, "she should come to me during office hours to ask them."
So Regina went.
The doctor never closed his door and never stopped taking phone calls. He spoke rapidly without explaining medical jargon. Regina, still confused about Fred's diagnosis, requested his medical records.
Seventy-three cents per page. That's the price to get your own medical records in the state of Maryland. Seventy-three cents a page and a 21-day wait for a live file.
"We're hospitalized right now. My husband's at stage 4 kidney cancer. Can't I get this information sooner?" Regina asked.
"No, that's the way it works."
In our interview, Regina marveled, "All they had to do was push Print."
The records department in any hospital may argue that there is more involved in producing medical records than clicking "Print," but when Regina returned weeks later — sent by the second hospital with a courier in tow — she had the records in her hands within 90 minutes.
Beyond the delay, Fred's file was hundreds of pages long, and 3 inches thick. Access to Fred's own personal, current medical information would have cost hundreds of dollars.
Three weeks after Fred was admitted, Fred's doctor announced, "Don't worry about the questions. We've decided we're sending you home on a PCA pump," thereby informing Fred and Regina that Fred's death was imminent.
PCA is short for "patient controlled analgesia." A PCA pump allows a patient to self-administer pain medication in prescribed amounts by pressing a button attached to the pump.(2) PCA pumps are commonly provided to patients with end stage cancer.
Regina had two children at home — one with autism — in a one-bedroom apartment that was not handicap accessible. She fought for Fred to be transferred to another hospital.
He was often forced to transfer among locations — the hospital, hospice care at home, a hospice facility, back to the hospital — because insurance demanded it, and Regina didn't know how to fight it.
Honesty from the beginning is what Regina dreams of.
When Fred was transferred to the second hospital on April 22nd, he was sent with an out-of-date and incomplete transfer summary and Medication Administration Record (MAR). No films were included in the transfer packet.
For six hours, Fred lay in bed suffering, denied care, pain medication, and even food until staff at the new facility could patch together a medical record using a phone and fax machine.
It was five weeks before Regina ever saw Fred's medical records — records that when reviewed, showed 13 major errors — mistakes that had affected Fred's care, and could have been corrected immediately had there been open access to the information.
I asked Regina to describe what would have been her ideal scenario those first days in the hospital.
"There should have been a family meeting," she said. "within the first week of us being there."
Family Meetings
Family meetings are a recommended practice, and considered an essential responsibility of effective ICU care. These meetings are detailed discussions about diagnosis, prognosis, treatment plans and patient preferences.(6)
Family meetings should include all relevant caregivers in the same room:
- The urologist
- The oncologist
- The internist
- The social worker
- The patient, if well enough, and family members important to the patient(6)
"They should have explained, 'This is how far Fred's cancer has progressed, and at this level of progression we are not going to be able to do surgery, we are not going to be able to do chemotherapy, we can give palliative radiation to reduce the pain, and you need to consider hospice care," Regina said.
Regina speculates that pure profit prevented that conversation from happening the first few days. "Fred was fully insured. They made $60,000 off him in those three weeks of not caring for him. There was an economic incentive for keeping a patient like Fred."
Data shows that family meetings reduce family member anxiety and depression. Three months after the death, family members who attended such meetings show reduced instances of PTSD.(6)
Despite this knowledge, 2012 study reported by the NIH revealed that for most patients in the ICU, no family meeting takes place.(6)
Physician and blogger Jeffrey Alderman proposes several reasons for this institutional failure.(4)
Physicians report being too busy. Some have difficulty admitting or even acknowledging the situation when treatments are failing. Some fear litigation. Others feel ill-equipped for delivering the worst news a family ever receives — "Nothing can be done."(4)
And Alderman confirms Regina's suspicion: "Our current health care system rewards us to do things to patients — we're disincentivized to take care away."
Over the course of three months, Fred was hospitalized in five facilities.
On June 17, 2009, 11 weeks after first entering the hospital, Fred died.
Just a few days later, Regina picked up her paint brushes started a mural titled "73 Cents."
73 Cents: A Medical Advocacy Mural


"73 cents" painted by Regina Holliday, photo courtesy of Ted Eytan
Regina painted Fred on his deathbed, surrounded by symbols of their 11-week medical journey. A note in Fred's hand reads "Go after them" — Fred's own words to Regina. A nurse surreptitiously hands Regina medical information behind the doctor's back. Regina is pictured kneeling at Fred's bedside wearing a beautiful mask that conceals a face grown haggard by caregiving and worry.
Watch Regina Holliday in action as an artist and advocate here.
Regina's mural of Fred's final illness has sparked conversation in the medical community.
Regina proposes that every patient have a patient-accessible, electronic medical record that follows the patient throughout care. If that had existed, and Fred's record had followed him from those first days of unexplained fatigue, weight loss and bloody urine in 2008, Regina believes Fred might still be alive.
Currently, data cannot be shared electronically between medical facilities. Paperwork is still hand-scanned into computers, and no system exists for analyzing the data. Regina is campaigning for patients rights in a medical version of the Freedom of Information Act.
The Affordable Care Act, passed in 2010, has features related to medical records and integrated electronic health care — regulations of the ACA that, while not fully implemented yet, became effective in 2012.(5)
The ACA encourages integrated health systems by which doctors can better coordinate patient care, and a move towards standardized electronic records in order to cut costs, improve care and reduce medical errors.(5)
The ACA does not, however, include the kind of patient access to records for which Regina is advocating.
The Walking Mural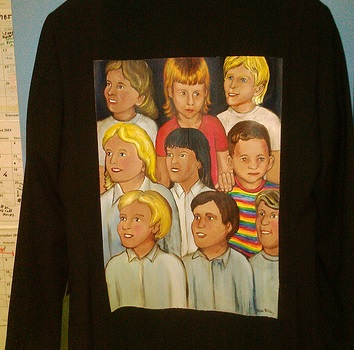 "Non-Compliant", Ted Eytan's jacket, photo courtesy of Regina Holliday
Regina's advocacy has given birth to a patients' rights movement.
"The Walking Gallery" is a performance piece started when a Twitter follower Jen McCabe asked Regina to paint a series of images on the backs of her suit jackets. McCabe then wore those stories — her "Walking Gallery" — to medical conferences.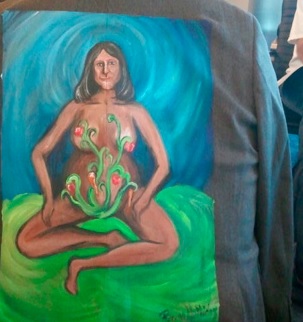 "Earth Momma," Matthew Browning's jacket, photo courtesy of Regina Holliday
Over 400 jackets have since been painted for The Walking Gallery, telling over 400 patient stories in 41 states.
Patients and their loved ones visually represent their journey. Doctors, nurses and caregivers wear their stories to medical conferences and on the street, instigating conversations about data transparency and patients' rights.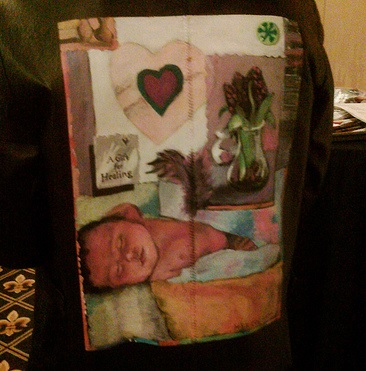 "Sophia's Garden" jacket for Karen Herzog painted by artist Richard Sach's, photo courtesy of Regina Holliday

Spread the Power of the Patient's Voice
Have you lived a medical story that needs telling?
Volunteer for the Walking Gallery by painting your story, or that of another patient. Spread your story on social media using #TheWalkingGallery.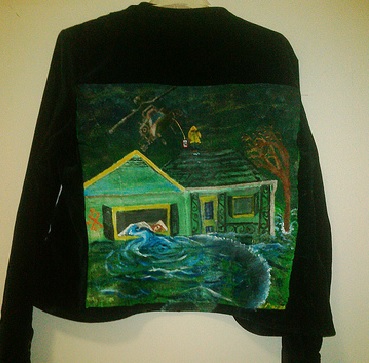 "Non-Compliant", Ted Eytan's jacket, photo courtesy of Regina Holliday
Or help build a brick and mortar home for The Walking Gallery by donating here.
Like the tour guide explaining art at museums, be the docent of your own life.
Reviewed May 24, 2016
by Michele Blacksberg RN
Edited by Jody Smith