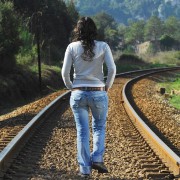 Photo: Getty Images
Autism spectrum disorders cast a mysterious light for most of us. Assumptions and misunderstandings are hard to eradicate when little is known, and what is known is difficult for the average person to understand.
Some may assume that a person with autism is mentally ill or unstable. But autism is a neurological condition, not a psychiatric one. It has to do with the brain and nervous system, not psychological ills.
Because some people with autism come across as being very different from society at large, fear can spring up. But people with autism are no more likely to be violent than any other member of that society. Violence is not an autistic trait.
People with autism may be seen as being cold, and having no feelings. But this is a judgment based on outward appearances. A person may be experiencing intense emotions, whether it shows externally or not. Or their way of expressing their feelings may be different from what the observer is used to.
People with autism may be thought of as unintelligent or mentally retarded. Lack of intelligence and mental retardation can show up in just about any category of people. But people with Asperger's syndrome, for example, which is on the autistic spectrum, tend to be intelligent people who are often performing brilliantly in their careers and businesses.
People with autism are sometimes assumed to be selfish, without concern for others. Here again, perception is key. Autism may hinder a person from picking up on the emotional terrain around them. He or she may not notice the sad expression, the drooped head of someone who is unhappy, and may not ask how they are.
A person with autism may not catch the tension in the room that lingers after an argument, and may then seem callous to the uneasiness. But this is not uncaring. This is simply unaware. And awareness can come through other means.
The people who know him or her can speak up and put a situation into words. Once awareness appears on the scene, the words and actions that show concern for others may also appear.
People with autism may be thought to have no friends, or other social relationships. But just as the world is made up of introverts and extroverts, people with autism are individuals. There are those who don't pursue relationships and there are those who love to be around people.
Because autism is a spectrum disorder, the lives of some with the condition are more affected by symptoms than others.
Resources:
Experts question prevalent stereotypes about autism
http://www.eurekalert.org/pub_releases/2006-02/uow-eqp021606.php
10 Myths About Autism
http://abcnews.go.com/Health/ColdandFluNews/story?id=6089162&page=1
Top 7 Autism Myths
http://autism.about.com/od/whatisautism/tp/topmyths.htm
Visit Jody's website and blog at http://www.ncubator.ca and http://ncubator.ca/blogger